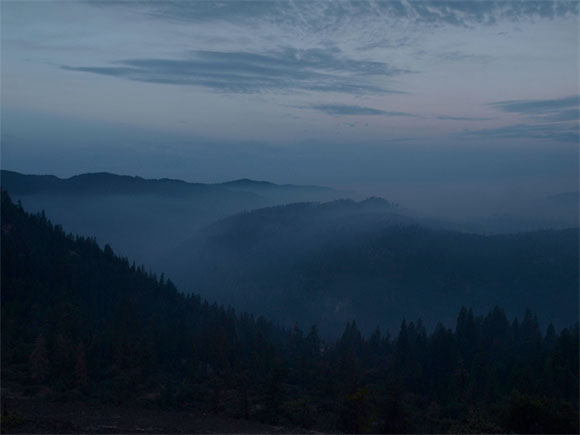 Above: Looking at the fire location from the webcam.
A wildfire burned at least 500 acres near Foresta in Yosemite National Park on Saturday forcing the 200 residents of the small community to flee.
The fire which started around mid-afternoon is moving northeast and uphill toward Foresta's big meadow. The area is full of grass and scrub and provides ample fuel for a fires.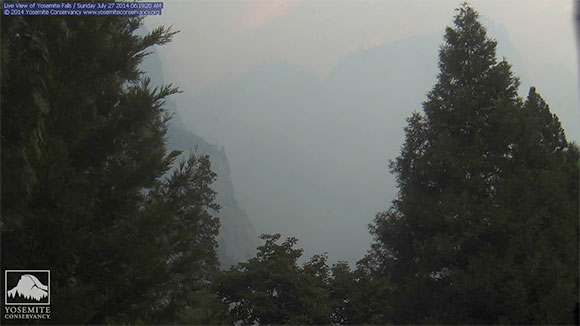 This is the view of Yosemite Fall from the webcam at around 6am this morning. The smoke is filling Yosemite Valley causing hazardous air conditions for sensitive groups. If you have a breathing condition or asthma you should stay indoors if possible. Avoid strenuous outdoor activity.
The Big Oak Flat Road was closed from its juncture with Highway 140 to the Crane Flat gas station on Highway 120. Try to avoid Highway 140 if possible as it will be in use by fire vehicles and crews. If you're trying to make it into the park from 120 you'll have to take 49 to Highway 140 in Mariposa or Highway 41 in Oakhurst
If you're trying to reach Yosemite Valley from Highway 120 from the East you will have to exit the park, circle around through Coulterville and Mariposa and then re-enter the park on Highway 140.
Humidity is up and clouds have moved into the area so hopefully the fire will be brought under control soon. We'll keep posting as we get more information.