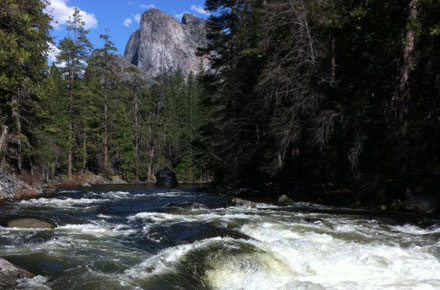 A San Mateo man drowned after he became pinned under rocks while swimming in the Merced River.
SFGate: Russ Wright, 57, was in the Cosmic swimming hole around 5 p.m. Wednesday when he became stuck in the boulders underwater, said park spokeswoman Kari Cobb.

Park Service rangers responded, but Wright was declared dead at the scene.
Even though the water levels are low the river is still cold and swift moving in places. The river bottoms topography changes from year to year as sediment, rocks, trees and limbs are deposited and washed away. Always use caution in and around the river.
Photo: High water during spring run-off by Steven M. Bumgardner.