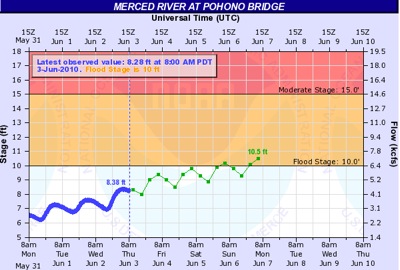 The National Weather Service is expecting the Merced River to crest above flood stage early Sunday morning.
The flooding isn't expected to be as bad as the 1997 floods which washed out roads in the park but visitors should use caution when hiking along the river and on the Mist Trail. Last year one person lost their life after they slipped on a rock and plunged into the river. Her body wasn't recovered for 3 months.
The river will likely flood meadows and low-lands in the Valley and shouldn't impact traffic into/out-of the Valley.