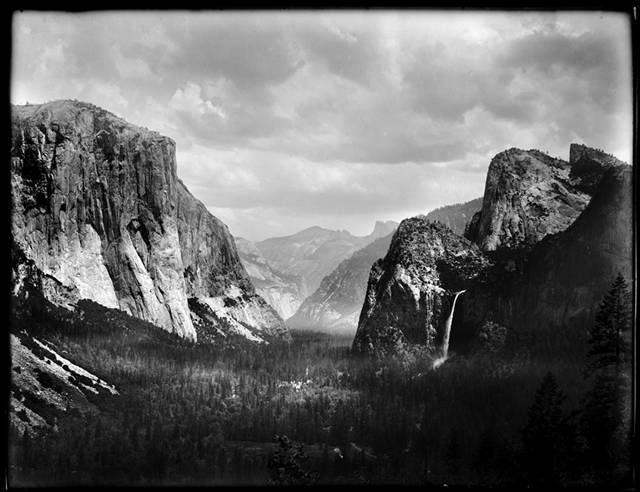 A print made from one of the photographic plates found at a Southern California garage sale by Rick Norsigian and reported to possibly be the work of Ansel Adams. Photo courtesy MSNBC.
In another twist to the "lost Ansel Adams negatives" story, a group representing Ansel Adams is suing Rick Norsigian for selling prints and posters using Ansel Adams name.
The lawsuit, filed in federal district court in San Francisco by The Ansel Adams Publishing Trust, seeks to stop Rick Norsigian and PRS Media Partners from using Adams' name, likeness and trademark with prints and posters made from the negatives Norsigian bought at a garage sale 10 years ago.
The suit alleges that Norsigian and his partners are infringing on the Ansel Adams trademark and deliberately confusing consumers by falsely advertising the prints as being Ansel Adams work. The Trust has asked the court to order the defendants to pay restitution of their profits from any sales, as well as award any other monetary relief.
The suit comes after Rick Norsigian set up a website selling prints made from some of the negatives, from $45 for a poster to $7,500 for a darkroom print with a certificate of authenticity.
The suit also says there is "substantial evidence" suggesting the negatives were created by another photographer, Earl Brooks, whose niece came forward just days after the Norsigian story broke in the media to say she had a photo of her uncle's that looked identical to one of the negatives.
The lawsuit states that even if they were Adams' negatives, the prints and posters being created from them aren't the photographer's works, "but are derivative works at best."
"Mr. Adams was fond of likening a negative to a composer's score and the prints to its performance — each performance differs in subtle ways," the lawsuit said. "The photographic prints and posters offered for sale by defendants … are not an Ansel Adams 'performance.' "