I really enjoy getting these old photos from readers about Yosemite. Rick Helin sent me this awesome photo of his grandfather and his great aunt in front of the Wawona Inn back in 1917. Read the story Rick sent along with it.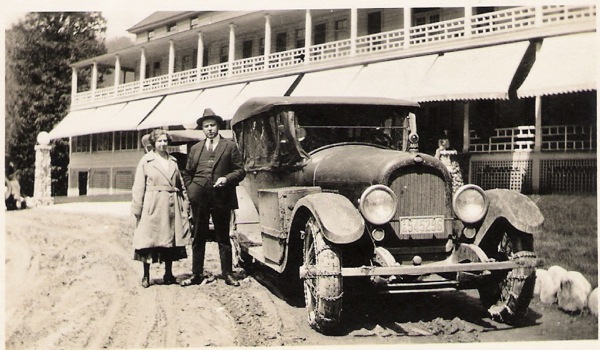 I recently ran across an old photo of my grandfather, Christopher Helin, with his sister, Katie Helin. The photo was taken out in front of The Wawona Hotel, circa 1917, probably by my grandmother.
My grandfather was the automotive/travel editor for Randolph Hearst's San Francisco Examiner from about 1915 – 1930. Manufacturers frequently provided him with new automobiles to test drive for the week, then write about them in the following Sunday edition. It developed into becoming the first of the "Bay Area Back Roads" travelogues, long before roads were paved and creeks had bridges. His weekly travel stories encouraged and enticed S.F. Bay Area readers to purchase a car solely for the purpose of getting out of the city on weekends and to experience their surrounding communities with the freedom only an automobile could provide.
Although the photo is black and white, if you look closely, the picture was taken during the spring. You will then realize the reason for the tires requiring chains for maintaining traction was due to excessively muddy roads, not because of any snow conditions.
Awesome story. Thanks for sharing, Rick.
If you've got an old family photo of Yosemite and would like to share please, send it along. You can send it to YosemiteBlog@gmail.com.