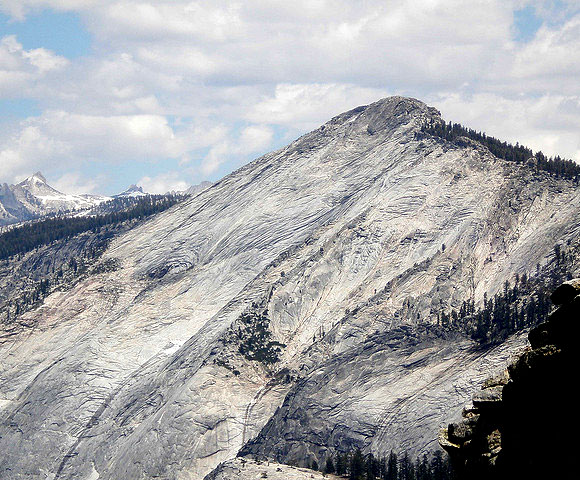 Clouds Rest in the summer by Mary Tricia via Flickr
If you haven't seen it yet there's a great story circulating on the wire of two skiers, Jason Torlano and Jonathan Blair who decided to do the seemingly impossible, ski Clouds Rest from top to bottom.
Here's an excerpt:
On Jan. 16, that dream became a reality. Taking advantage of ideal conditions, Torlano and Jonathan Blair of South Lake Tahoe became the first people to carve ski turns down Clouds Rest's massive northwest face.

Torlano and Blair started up the Mist Trail on Jan. 15 at dawn and were skiing once they reached the top of Nevada Fall. It took 121/2 hours to gain the airy 9,926-summit of Clouds Rest, where they pitched a tent and hunkered down.

All night, howling winds battered the tent as Torlano and Blair sat around and discussed whether the snow load would make the route even more prone to avalanches. But they awoke to blue skies and wind-blown crust. It was a go.

"It looks like powder up there, but it's not," Torlano said. "Lots of side slipping and jump turns while picking our way through rocks and ice."

About halfway down the face, they came to a 300-foot cliff. So out came the climbing rope, pitons and ice screws to make three separate rappels.

Once off the cliff, they skied another 1,000 feet or so of extremely steep terrain before making the decision to traverse across the face. While this route avoided more cliffs, it put them right smack in an avalanche zone. Both carried beacons — a faint hope considering the acres of ice above them — and stayed several hundred feet apart.

"It made us very nervous," Torlano said. "Everything we were taught about safe skiing, we had to ignore in order to get through there."
You can check out the rest of the story here. It's well worth the read.