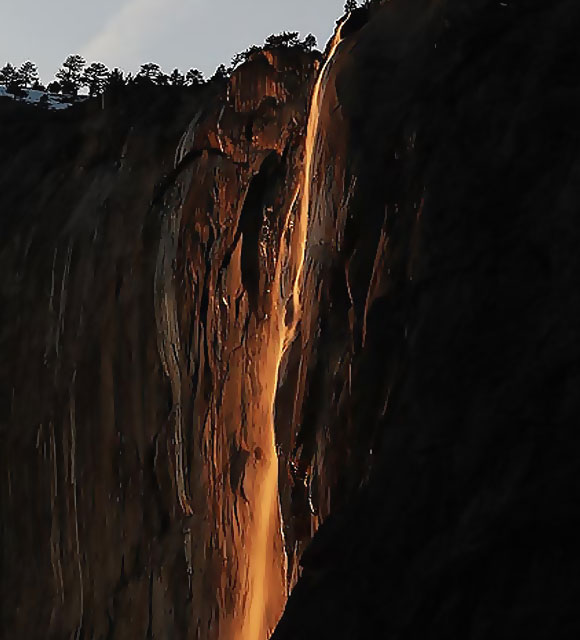 Alright, so it's a misnomer. The real firefall occurred when hot coals from a fire were pushed off Glacier Point, a practice that ended last century. But every year there's a short window of time when the sun shines up the Merced River Canyon in just such a way that it lights Horsetail Fall on El Capitan making it look like it's on fire. When is it? Well, no one is 100% certain when the best window to photograph Horsetail Fall is but friend and photographer, Michael Frye thinks he has that time nailed down.
My thoughts about the best time to photograph Horsetail haven't changed since I wrote this post last year: basically it's February 16th to 23rd, or maybe a little beyond that.

This window was confirmed by my observations in 2012. There wasn't much water in the fall last year, but we had a string of clear days, which allowed me to closely watch the light, and I think that February 16th to 23rd window is about right. –Michael Frye
That's not all you need to know though, Michael's got some great tips for photographing the firefall on his blog that you should check out that will really make your trip and photos excellent.
So what happens if the conditions aren't perfect? Well, watch the video. Unfortunately the water never got the beautiful red glow but the time spent conversing in the late afternoon with other photographers and Yosemite locals made it well worth the trip. Plus, there's this beautiful waterfall and you're still in Yosemite.
One last thing too, Horsetail Fall is a magnet for photographers. If you're coming up plan on walking because the Valley gets really crowded and every conceivable vantage point (even your super secret one you've never told anyone about like the riverbank by the bridge) will have someone in it. Wear warm clothes, bring hot drinks and high calorie food and good sturdy shoes. You're going to be walking for a while and standing for even longer. A good tripod and a full battery on you cell phone helps as well. The cell phone is just so you can check in on our Facebook page and gloat to everyone who couldn't make it up to see the fall. Don't forget to share your pics in the Flickr group pool or on the Facebook page.