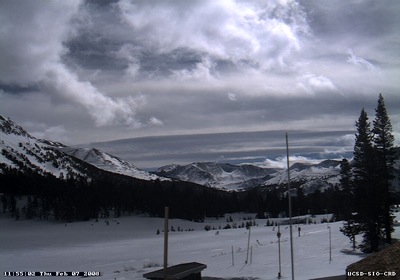 Today's Photo of the Day comes from 2 places, University of California San Diego for their webcam in Tioga Pass that captured the image and reader Andreas Roschlaub who found the new link and sent it to me.
What am I talking about? A couple years ago UCSD placed a webcam at the Tioga Pass entrance station to view meteorological events. A few months ago the images from the webcam just stopped coming. You can see evidence of this if you visit the Yosemite Association Virtual Yosemite page. The link is dead with no images. What happened is the images are now going to a new subdomain on the UCSD server. You can now find the images at http://tenaya.ucsd.edu/tioga/.
Oh. If you work for the Yosemite Association you should fix your link too.
Thanks Andreas! Awesome job.
By the way, aren't those clouds in this photo surreal?