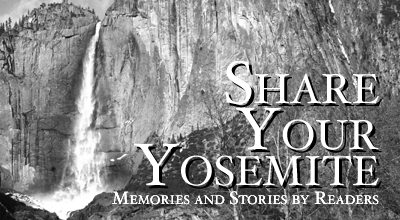 Here's a great story (and photo) by Jennifer that shows you don't have to spend an entire day in Yosemite to have a great memory. Give it a read.
I've lived my entire life in Fresno, and my father's family has had a cabin in Fish Camp since the 1940s, so trips to Yosemite have been frequent throughout my life. But one of the most memorable visits was also the shortest.
I was 25, living with a roommate, and hanging out at home with a couple of friends on a Saturday night in early November. It was late, we were feeling hyper from eating Halloween candy and we were bored. At some point in the evening, during discussions to figure out what we should do, someone tossed out the idea: let's go to Yosemite! It was dismissed as being crazy, since it was well after dark. But the hours passed, Saturday Night Live had started and finished, and we still had a lot of energy. "Let's go to Yosemite!" was uttered again.
Then it started to get serious, and we pondered, "What time is sunrise? How long would it take us to get there? Yes, I'm sure that I'm awake and have the energy for this…" etc etc etc. So at 2am we decided that yes, it may be crazy, but it was possible, so let's do it!
So, we dressed warmly, packed some snacks, picked up the camera and National Parks Pass from my parents' house, and were finally on our way at about 3:45am. There was practically no one else on the road at that time, which was bizarre, but nice. The ranger's station at the southern park entrance was unstaffed, so we had no problems getting in. There were patches of fog, we saw some deer, it snowed a little bit. The sky started to get light and it wasn't long at all before we turned around that curve that always gets me and we could faintly see the outlines of the monoliths of Yosemite Valley in the decreasing darkness.
We got to the observation parking lot on the other side of the tunnel and we were the only ones there until another vehicle arrived a few minutes after us. It was a stark contrast to every other time I've been there, when it's usually swarming with tourists and the sound of idling buses. It was freezing outside but we got a blanket out and sat on the little stone wall and took pictures and just watched the fog ebb and flow. It moved across the valley floor in waves, and was hypnotic to watch. You could easily hear the sound of the waterfalls and the Merced river in the valley below us, something I had never heard before from that spot. Other photographers showed up, most of them with very impressive cameras and tripods. They chatted a bit, but for the most part it was very serene and quiet. We stayed there for an hour and a half, and then the first busload of enthusiastic tourists arrived and we knew it was time to head home.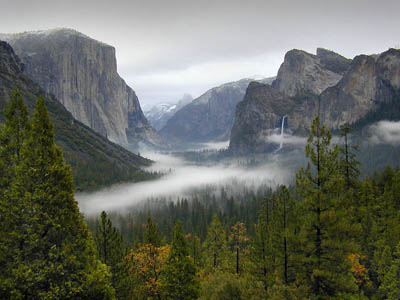 It was completely crazy and spontaneous, but I am so glad we did it. It was my shortest trip to Yosemite, ever, but it most definitely ranks as one of the most special, because of the spontaneity of the trip and being there at a time of day I'd never been there before. I rarely get the chance to experience that kind of stillness. Usually, no matter where I go in Yosemite, the sounds of civilization can be heard. This was the first time that I got a break from that. I got to go to church in a way I'd never been before, and it was highly invigorating to my soul.
Thanks for sharing your Yosemite, Jennifer.