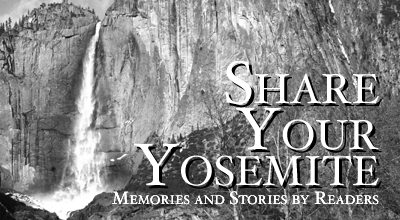 Continuing our Share Your Yosemite series, Kevin sent us this email of his yosemite.
My first trip to Yosemite was when I was in my early teens with a group of 4-5 families from our neighborhood. I grew up at the beach in Southern California, so my dad's attitude tended to be why vacation when you live in paradise. So, my brother and I jumped at the chance when one of our neighbors invited us to go to Yosemite with them. We made the trip for five years in a row. My fondest memory is just being in a great mood the entire week long vacation. We hiked the Mist Trail, Half Dome, around Mirror Lake, drove to Tuolumne Meadows and Glacier point, sat on lawn chairs in the Merced River and just explored. A group of ten beach bums on the loose. It was a great time and a great memory.
Twenty years later, married with two daughters, we moved within easy driving distance of Yosemite. I could not wait to make my first return trip, and to expose my daughters, 6 and 10 years old at the time to the park. To my pleasure, my older daughter was in awe. We've made at least two day hikes each year together ever since. My younger daughter was a little young and suffering from car sickness, so she was not impressed. This past fall, I made a trip with her, now 11. She too was in awe and did not want to leave. Having taken up digital photography, I tend to make day trips as often as I can. My younger daughter is showing an interest in photography as well, so I know a trip with her and the camera means I will not shoot any pictures, which is just fine. I love watching her explore and discover the large scale and small scale beauty of the park.
This April, my 82 year old Dad will be visiting from Austria where he now lives. On his list to do while in town – a hike in Yosemite. I can't wait…
Thanks for sending in your story, Kevin. If you'd like to share your Yosemite send us an email. You can send your Yosemite stories and photos to share@yosemiteblog.com.