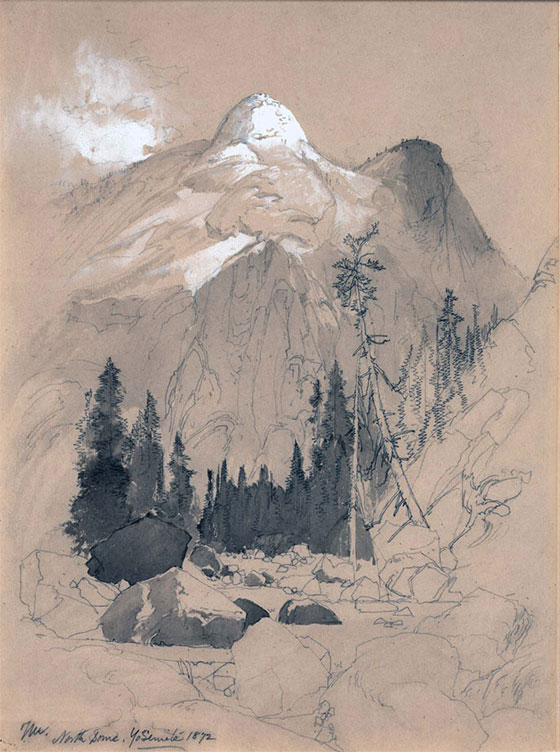 In celebration of the 150th anniversary of the signing of the Yosemite Grant, Yosemite National Park and the Yosemite Conservancy have unveiled an exhibit at the Yosemite Valley Museum entitled "Yosemite, the Grand Experiment". The new exhibit features photographs and paintings of visitors and the landscape from the park museum's extensive collection, including some of the earliest Yosemite images. There will also be historical items such as survey equipment, notes, and maps that haven't been featured at the museum before.
In addition to material from Yosemite National Park's collection, the exhibit includes items on loan from the National Archives and Records Administration, the U.S. Army Corps of Engineers, Jefferson National Expansion Memorial, and several private collections.
The opening reception will be on June 2, from 5:00 p.m. to 6:30 p.m., behind the Yosemite Valley Museum. Food and drinks will be served.
The exhibit will be open daily from 9:00 a.m. to 5:00 p.m. from June 3 through September 30, and from 10:00 a.m. to 12:00 p.m. and 1:00 p.m. to 4:00 p.m. from October 1 through October 18, 2014.
Some of the more interesting and notable pieced on display include:
The Edmunds report, written by the Commissioner of the General Land Office for the Chair of the House Committee on Public Lands, describing the proposed Yosemite Grant, and sent one week before the Grant legislation was signed in 1864 (this document is on loan to the National Park Service from the National Archives in Washington D.C.)
Willis Guide to Gold Mines, 1849 (The only known surviving example of this handwritten guide for 49ers traveling to California: this was James Mason Hutchings' copy)
Captain Dick's shot pouch and powder horn, dating prior to the arrival of the Mariposa Battalion
Thomas Ayres "The High Falls" 1855, one of the earliest known images made of the Valley landscape, later reproduced as a print
Frederick Butman's "Yosemite Falls," 1859, one of the earliest oil paintings of Yosemite
Carleton Watkins' mammoth photograph "Outline View of the Half Dome", one of the 1861 photographs circulated on the east coast and credited with familiarizing legislators and others with Yosemite's landscape
Albert Bierstadt's "Night at Valley View," 1864, painted after his 1863 visit to Yosemite
A Civil War Era transit, similar to equipment used to produce the first maps of the Yosemite Grant (on loan to the National Park
Service from the Center for Military History).
James Gardner's manuscript field notes from his 1864 survey of the Yosemite Valley and Big Tree Grants
Charles Hoffman's 1867 hand-painted plat map of the Yosemite Valley, outlining private land claims on the Yosemite Valley floor
The Grand Register of the Cosmopolitan Saloon