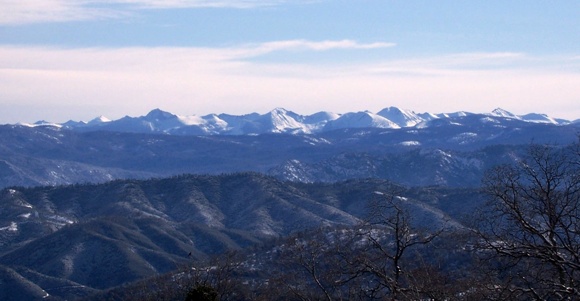 Have you ever thought about living close enough to Yosemite that you could enjoy waking up and looking out your window to see El Capitan or maybe you'd like to be able to explore the park everyday and be home every night for supper? Thor Matteson's house is just outside the park but is up for sale making this the perfect opportunity to snatch up that mountain home you've always wanted.
Thor's property is located on Mt. Bullion near Mariposa at an elevation of 4,000 feet and offers stunning views of Yosemite National Park, the High Sierra, Cathedral Peak, The Clark Range: Mt. Clark, Red Peak, Gray Peak, Merced Peak, Tower Peak and the Dardanelles.
The property is 21.6 acres with a house and shop area. The original house is about 1800 square feet, completed in 1979 and includes: Full bathroom (5'-6" x 8'); Laundry room with built-in cabinets on one full wall, counter and cabinets on second wall; Kitchen (approx. 13 x 13) with two sinks, large island, built-in oven and microwave, Jenn-Aire downdraft cooktop; Dining area adjacent to kitchen (approximately 12 x 25 feet) that flows into Living Room, (approx. 15 x 30); with adobe fireplace; Master suite (approx. 13 x 20) with walk-in closet, double lavatory & counter adjacent to sleeping area, and separate toilet compartment and also separate room with tub/shower and bidet. Kitchen, dining, living and master suite all have windows looking out over thousands of square miles of forest, hills, mountains, and canyons.
The house is a fixer upper and would require considerable work. The original owner expanded the house to nearly 6,000 sq. ft. without permits. Thor was in the process of renovating the house and removing/bringing the additionsit up to code when he was forced to cease his efforts due to extenuating circumstances. Since most of the house was expanded without permits it may be necessary to secure a loan from a private lender. For someone who's not afraid of a bit of work, this place could be an AMAZING retreat.
I'm not posting the price because that's up to Thor to decide. Do keep in mind that this is a 21.6 acre lot with a great view of Yosemite and the High Sierra. If you're interested please send me an email and I'll pass it along to Thor. He can send you more information, pricing and work out the details with you. You can email me at info@yosemiteblog.com.
Please, serious inquiries only. Agents should have a specific buyer in mind who has been waiting for a one-of-a-kind property like this.