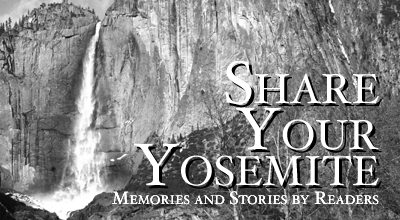 Carrie sent in this very moving story about her life and what Yosemite means to her. It's more proof that Yosemite shares a different place in each of our lives. For some of us it's a place to visit, for others a place to heal.
The pictures I've posted on Facebook indicate personal growth during 2009. It was the worst, yet best year of my life.
You see, I was once terribly afraid of traveling out of my comfort zone and never left the city area. But, gradually, I ventured further and further away from the familiar. I'll admit, it was a tough beginning.
I lied once, telling someone I was going hiking in Yosemite, but parked in a typical mountain area's tourist spot, and never got out of my car. Heck, I had panic attacks because the mountain drive was a bit stressful due to the curvy roads.
I, like many, have a sad story. My past relationships were full of control, possession and deceit which led to my own low self esteem and insecurity issues.
In 2008, I was struggling with the notion that I had cancer. I felt alone because I did not have proper support. I waited months to have surgery because I didn't know which path I should take. After months of doubt, I finally gave in and had the surgery.
With the realization that I did not have a deadly illness, I gained some insight and inspiration via hiking in and around Yosemite. I told myself if I was strong enough to climb up a mountain, I was strong enough to deal with life's complicated challenges.
I've lived in this area since I was a teen and had never took the time to enjoy what's practically outside my back door. But I wanted change, and I wanted to escape the overwhelming depression.
I ventured into wilderness areas alone at times. And it was during the solitude adventures that I found peace and self worth. I'd tackle the toughest paths and take pictures of the trail signs to show proof that I completed a hike. I wanted everyone to know that I was "really" okay.
When I did have company with me, I was told that I had a youthful, beautiful and confident aura about myself. The pictures I've shown here do not show depression or stress lines anywhere on my face and I enjoy looking at them from time to time.
I began hiking last April and did not miss one weekend for more than seven months. I spent time with bears and many deer, people from different countries, hours next to a beautiful fall, just trying to hike every angle of Half Dome in one year.
My goal was to reach the top on my birthday. Unfortunately, there were too many on the trail with me when I scheduled my "birthday" hike and I did not get to celebrate the year's accomplishment on top.
But, I sat with a friend on a mountain's edge just below Half Dome and revealed all I've shared here with you. I explained the gradual progression after personal heartache and health issues nearly destroying me at the beginning of 2009.
I cried just a bit telling my friend how I wanted to hear Rocky's theme song once I climbed to the top. But, a storm was coming in and the hour was getting late, so I began heading downhill for safety reasons.
Had I not spent so much time discovering and experiencing all that I had up to that point, I would have walked away with so much sorrow. But instead, I smiled after revealing my birthday motives and said, "There will be another day."
There "will" be another day… and it makes me smile even now retelling this tale because I'm confident, wiser, and capable of making this year's hiking season even more spectacular.
Thanks for sharing your Yosemite, Carrie.
Please, if you have a story or a memory of Yosemite you'd like to share, send it in. You can send photos and stories to share@yosemiteblog.com. If you'd like to remain anonymous just let me know and I'll change the name.