2009 was a big year in Yosemite. There were rock falls, the Ahwahnee was closed for a while and there were more than enough fires. Here's a quick run-down of this years top stories.
Rockfall by Ahwahnee Hotel
In early February an 800 ton rock fall took place near the Ahwahnee.
Amgen Bicycle Tour Visits Yosemite Region
The Amgen Bicycle tour made its way through the Yosemite area in mid-February bringing with it scores of onlookers and some of the biggest names in bicycle racing like Lance Armstrong.
Man Commits Suicide Above Yosemite Falls Following Court Sentencing
In mid March a despondent man committed suicide by plunging into the creek above Yosemite Falls.
Cedar Lodge Worker Missing After Car Tumbles Into the Merced River Outside Yosemite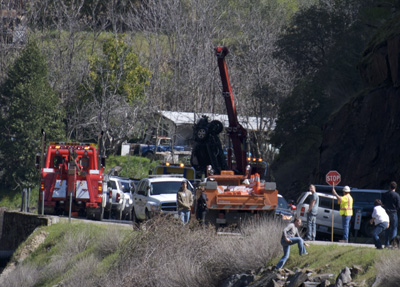 In mid March a Cedar Lodge worker was reported missing and her body later found after her car plunged into the Merced River outside Yosemite.
Rockfall Closes Mirror Lake Loop
A large rockfall from Ahwiyah Point by Half Dome closed the Mirror Lake loop in late March. The rock fall spawned a small air blast knocking down trees and spewed a cloud of crushed granite dust into the air.
Missing Person by Vernal Fall Footbridge
In mid May Katrin Lehman was hiking in Yosemite when she slipped and fell into the raging Merced River by the Vernal Fall footbridge. Her body was recovered later in the year.
Paralyzed Iraq War Vet Climbs El Capitan to Help Other Injured Soldiers

In June a British Major paralyzed from injuries sustained in the Iraq War climbed El Capitan to raise money and awareness for other veterans injured in the conflict.
Tourist Busses in Yosemite Pulled for Being Unsafe
Also in June the Federal Motor Carrier Safety Administration, California Highway Patrol and National Park Service began surprise safety inspections of tour buses entering the park. During the joint operation 15 out of the 24 buses operating within the park were cited for unsafe operation and 2 were taken out of service.
Cyclist Killed After Colliding with Car on Southside Drive
Sung Mo Ku, a 52-year old visitor from South Korea was riding a mountain bike eastbound on Southside Drive on May 29 when the he attempted to cross from the south side of the road to a pullout on the north side of the road when he collided with an oncoming vehicle.
Hiker Falls to Death on Half Dome
A man fell to his death in mid June while attempting to climb to the top of Half Dome using the popular cables route. Conditions were reported to be wet and slippery from recent rain and hail that may have contributed to the mans death. Thirty other hikers on Half Dome were escorted down after the mans death.
Yosemite Legend Nic Fiore Passes Away
For years Nic Fiore was an icon at the Badger Pass Ski Resort where he taught skiing. We were deeply saddened to learn of his passing in June. We remember his as a great man, full of humor and joy. He is sorely missed.
Ranger Saves Visitors Lives and Presented with Award from Rescuees
On May 26, 2009, Yosemite National Park Ranger Dan Abbe was flagged down by park visitors on his way to work in Yosemite Valley. Abbe was traveling on the Wawona Road and entered the pullout about 2.5 miles south of the Wawona Tunnel. He was informed that there was a vehicle over the side of the road and it was on fire.
He walked to the vehicle, about 30′ below the road surface and saw a full sized pickup truck resting on its side with an upright travel trailer behind it. Abbe also noticed that there was a fire in the engine compartment of the truck as he attempted to extricate the two park visitors from the truck.
Later, James Bachman and Dorothy Hovland, the occupants of the truck, returned to Yosemite to present a plaque to Park Ranger Dan Abbe to show their appreciation for his heroic efforts.
Bears Go Nuts in Yosemite
Hey who could blame them for being tempted by all that yummy tourist food in the campgrounds and in the back of people's cars.
Lighting Sparks Fire Along Tuolumne
In late July and August a lightning sparked fire along the Tuolumne River closed several major trails along in the Grand Canyon of the Tuolumne.
Strange Odor Sickens Wawona Hotel Employees
In mid August a strange odor, that later turned out to be a spray bear deterrent, sickened Wawona Hotel employees and forced the evacuation of the hotel until the smell dissipated.
Ahwahnee Closed Due to Major Rockslide

A sizable rockslide from Royal Arches closed the Ahwahnee for several days and continues to rain gravel and small rocks down for weeks afterward.
Curry Village Visitors Awaken to Falling Rocks
Another rock slide occured behind curry village in the wee hours of September 29th. The rock slide occurred behind the area known as New Housing, a collection of employee homes near the guest cabins. A large dust cloud wafted over the area, but the rocks didn't reach into the inhabited areas.
And the biggest story of 2009, the Big Meadow Fire Prescribed Burn. You may remember hearing this story on CNN and every other major news outlet as a prescribed burn in the old A-Rock fire scar got out of control.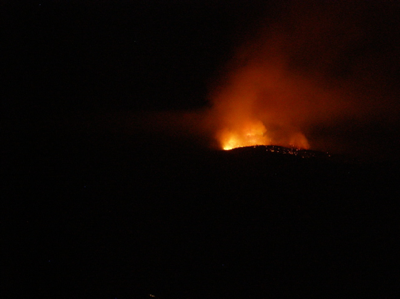 Big Meadow Fire Update
Big Meadow Fire Scorches 2200 Acres Only 10% Contained
Big Meadow Fire Continuing to Grow
Big Meadow Fire Webcam Timelapse Video
You can see all the Big Meadow Fire articles (and there's a lot) by visiting our archive here.