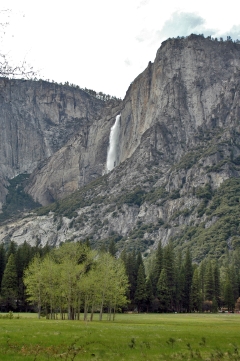 Have you dreamed of being lulled to sleep by the click-clack-click-clack of steel wheels only to wake up in one of the most beautiful places America has to offer? Or maybe you've dreamed of seeing America's national parks without the headache of driving, making reservations, cooking dinner, or loading the kids in the car. If you have dreamed either of these things, then the American Orient Express is the "ticket" (all puns intended) for you.
The Rockies and Sierras tour on the American Orient Express starts in either Denver or San Francisco and takes you through some of the greatest scenery the West has to offer. Fall asleep to the sound of the train slowly winding it's way across the land to awake in a great destination; Arches, Canyonlands, the Rockies, the Sierra Nevada, and Yosemite National Park.
American Orient Express: "We awake this morning in Sacramento, the capital city of California. We arrive in Yosemite after a motorcoach tour that brings us to 5,000 feet in elevation. Yosemite is known for its spectacular granite cliffs, towering waterfalls, unique rock formations, giant sequoia forests and pristine wilderness. Native Americans, particularly ancestors of the Southern Miwok tribe, have inhabited the region for 8,000 years. Today we tour the valley, with stops at Half Dome, Royal Arches and Bridal Veil Falls. Enjoy dinner and overnight at a Yosemite Lodge.

In 1864, President Abraham Lincoln signed a bill granting Yosemite Valley as an inalienable public trust. And in 1890, with the efforts of naturalist John Muir, Yosemite National Park was created. This morning we are free to hike and stop by the visitors center to gain further knowledge of this geological wonder. Tonight, on board the train, we celebrate our journey with a farewell cocktail reception and dinner."
Most meals and accomodations are provided leaving you nothing to do but sit back and enjoy yourself. For more information be sure to check out AmericanOrientExpress.com.