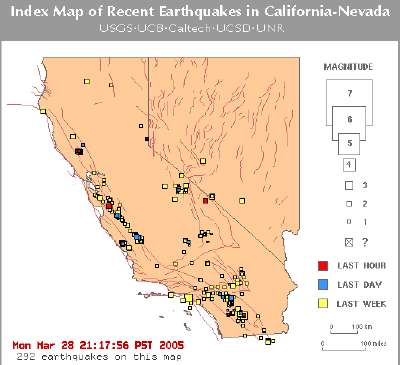 A lot of the people I talk to about Yosemite are as much interested in the famous "California earthquakes" as they are in the Park.
Geologically California is still one of the most active regions in the world. Yosemite itself shares a volcanic past and even today is bordered on it's eastern side by an active volcanic region (the yellow patch of squares located in the middle right of the image).
Although you probably won't feel any earthquakes when you visit the Park, a short drive during the summer months can lead you on a geologic adventure of a lifetime. Just the other side of Tioga Pass (Highway 120) is the Mono, June and Mammoth Lakes region, a very active volcanic area. By taking a short drive down Highway 395 south from Highway 120 you can expect to see cinder cones, lava domes, ash piles, geothermal springs, the Mammoth Caldera, and even an active volcano, Mammoth Mountain.
You can get information on the eastern side of the park by stopping by the Visitors Center or by visiting the Tourist Information Center in Lee Vining. I also recommend picking up the book "Geology of the Mono Basin" by Timothy Tierney, a field guide to lead you on your volcanic adventure. The book is available through the Mono Lake Committee at www.monolake.org.