Judy's email she sent really made me think. Yosemite is a special place to each and every one. We each find our own little piece of it that fits in our world and we cling to that piece. That's why I've decided to start something new.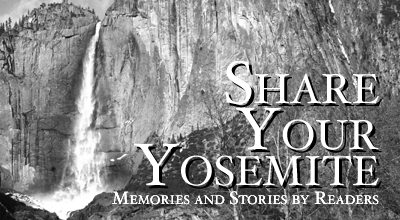 Share Your Yosemite. Tell us your memory of Yosemite. Was it a trip with your Grandpa? Getting married at Glacier Point? Or even a story passed on from your Mom. Did you drive the car off into a tree? Skinny dip in Emerald Pool? Meet your husband or wife while working in the park? Send it in. Got a photo? Send it along too.
Here's my Yosemite story: "My dad was the one who first took us to Yosemite. He was an amateur historian and loved all things from the Gold Rush so he loaded us in the car every chance he got and took us out to see the different interesting places in the foothills. Naturally he was into photography so I inherited that from him as well as his name. He passed away just after I finished high school. There's not a day go by when I recount some story or lesson he taught us and it makes me smile."
Now it's your turn. Tell us what you remember about Yosemite. Send your stories and photos to share@yosemiteblog.com.