Last night we ventured out to Barnes and Noble and where I picked up a couple of new books on Yosemite.

The first, Railroads of the Yosemite Valley
is an awesome historical reference of the building of the railroads that served the Yosemite region. Loaded with interesting pictures taken during the hey day of the railroad, Railroads of the Yosemite Valley
chronicles the history of the railroads, their use by the logging and industrial firms around the park, and their role bringing visitors to Yosemite. This book is going to have me looking for signs of the old railway now. I particularly couldn't believe the photos of the old inlcine railways which were set up the side of the mountain at about 60 degrees. This is definitely one that you'll want to check out.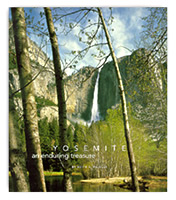 I'm never one to turn down creative and interesting books of photos of Yosemite (it's nice to see what other people are doing) so the second book I got was Keith S. Walklets' Yosemite: An Enduring Treasure
. What an awesome body of work! The photography is phenomenal; trading traditional views for one a little different from the norm. Couple that with Keith's fantastic writing and an imaginitive layout and design for the book and you have a book that will inspire and awe you at the same time. I'm keeping this one up out of reach of the kid.
Both books are available through the Yosemite Association' store or by clicking the photos and links above.