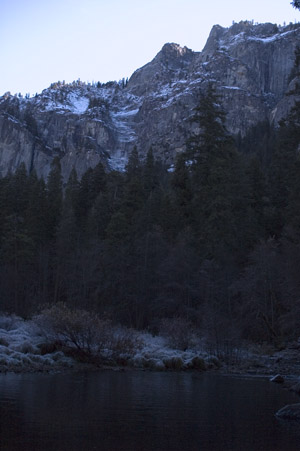 I saw on a forum for a photography group where someone was asking what it's like in Yosemite in winter. The picture above was taken today around 11 a.m. (click for larger version)
Normally Yosemite can be quite cold in the winter. There's usually a couple of inches of snow on the ground in the Valley by mid-winter but this year it came early with a light dusting around the Valley and black ice in the shady sections. Chains are required to be carried in your vehicle during the winter months and you could be required to put them on at any time.
The roads to Tioga Pass and Glacier Point are closed making the Valley everyone's main destination. Don't let that deter you though as crowds are significantly less than what you'd encounter in the summer. Unfortunately most of the routine roadwork takes place in the less busy winter months so there are some detours but they're a minor inconvenience.
Winter camping is great in Yosemite and there are lots of places to go to warm up when it's really cold. Just remember to bring lots of blankets, fuel, food, and warm clothes and you should be ok. As with all winter camping you'll also want to bring a good 4 season tent that can handle snow and some thick insulation between you and the cold, hard ground. I recommend bringing a snow shovel also because you may need to do a little digging out if it snows while you're there.
I hope that answers the question. As always feel free to email if you have something specific you'd like to ask.