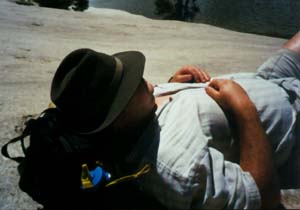 Yes, that's me, catching a few winks at Lower Cathedral Lake after a hard day of hiking.
Who am I?
My name is Loyd Schutte and I'm a writer, a photographer, and a web designer born on the banks of the Tuolumne and raised in the shadow of Yosemite. I live and work in Modesto California with my beautiful wife Tania, our son Zachary (8), and our daughter Katie (3).
Do I work in the park or for the concessionaires service?
I do not work for the National Park Service or any of the concessionaires serving the park. I have a great love of Yosemite and spend much of my free time in the park or researching it's history, native cultures, flora, fauna and environs.
Do I live in the park?
I'd love to live closer to the park but my son needs to attend special classes for Autistic children so I am not able to at this time.
What if I want to advertise on Yosemite Blog?
Yosemite Blog receives thousands of readers monthly with over 125,000 page views and is growing steadily. Everyday I receive and answer emails from all across the United States, Canada and Mexico and from as far away as Australia, China, and even South Africa. This gives advertisers a unique opportunity to reach a broad audience locally, nationally, and internationally. If you have a product or service you think the readers of Yosemite Blog would be interested in, please, call or email me. This is a great opportunity for businesses in and around the park and in the surrounding communities to grow their business.
If you're interested in advertising please send an email to loyd@yosemiteblog.com.
How can I contact you?
If you want to contact me you can send an email to loyd@yosemiteblog.com, message me through one of the online services (listed below).
AIM: thecmpnguy
MSN: cmpnguy
Yahoo!: cmpnguy
If you have a tip on a story or news you'd like to report or would just like to leave me a comment or ask a question send an email to YosemiteBlog@gmail.com.