I love my dogs and there were many a time they would accompany me on hikes up and down the Sierra. They loved it as much as I did. Just because you're going to Yosemite doesn't mean you have to leave them at home. There are plenty of places they are allowed in Yosemite. So go ahead, bring your dog.
These simple rules are in place to protect you, your dog and other visitors.
Stick to the Developed Areas
To keep your dog from getting lost or hurt, dogs are never allowed in undeveloped or wilderness areas. Ticks about even in Yosemite and they carry lots of diseases so keep your pets and your family safe by keeping them in developed areas.Where Pets Are Allowed

Lounging in Camp
Dogs are allowed in all campgrounds except walk-in and group campsites. That means no dogs in Camp 4. Camp 4 is a very small campground with lots of people in very close proximity. It's easy for a dog to get confused or agitated in such an environment. If Camp 4 is just one destination on your trip and you want bring your pet, consider letting him socialize at the Yosemite Hospitality Kennel. Dogs must not be left unattended and leaving them in a car no matter how warm/cool out is NEVER a good idea. Bring them with you or leave them with someone.
Remember, dog food is as attractive to bears as human food. Maybe even more so. Store your dog food as you would store human food in air tight containers in the provided storage lockers.
Out for a Walk
Dogs are allowed in developed areas, on fully paved roads, sidewalks and bike paths (unless otherwise signed). Pets must be restrained on a leash not more than six feet long or otherwise physically restrained.
Don't take your dog into public buildings, on shuttle busses or into the lodges. They're noisy and crowded and it's easy for your pet to get confused. Let them stay outside enjoying the fresh air and the sunshine.
Take plenty of fresh water with you on your hike. Letting your dog drink from the river or a stream is against the rules. A cool dip in the river or lake will also get you in trouble.
Don't forget, dogs get tired too and especially in Yosemite where the air is a little thinner. Watch for signs your dog is tiring out. Last thing you want is to have to carry your dog back to your camp on a long hike or have them sit down every 3 steps.
It's your responsibility to clean up after your dog and deposit the feces in a proper waste receptacle. You can be cited for failing to do so.
That's a lot of rules but there are some great paved trails in Yosemite (more each year it seems) where you can take your pet and enjoy nature together. Give some of these trails a try:
Lower Yosemite Fall Trail
Bridalveil Fall Trail
Cooks Meadow Trail
Mirror Lake Trail
Meadow Loop in Wawona
Old Big Oak Flat Road from Hodgon Meadow to Tuolumne Grove Parking Lot
Carlon Road from Hodgon Meadow to the trailhead
Chowchilla Mountain Road
Four Mile Fire Road (not trail)
Eleven Mile Fire Road
And, if you're looking for something a little cooler to do with your dog, I highly recommend Bodie State Historic Park, the classic American silver mining town now a ghost town ran by the State of California. It's great and pets are totally allowed!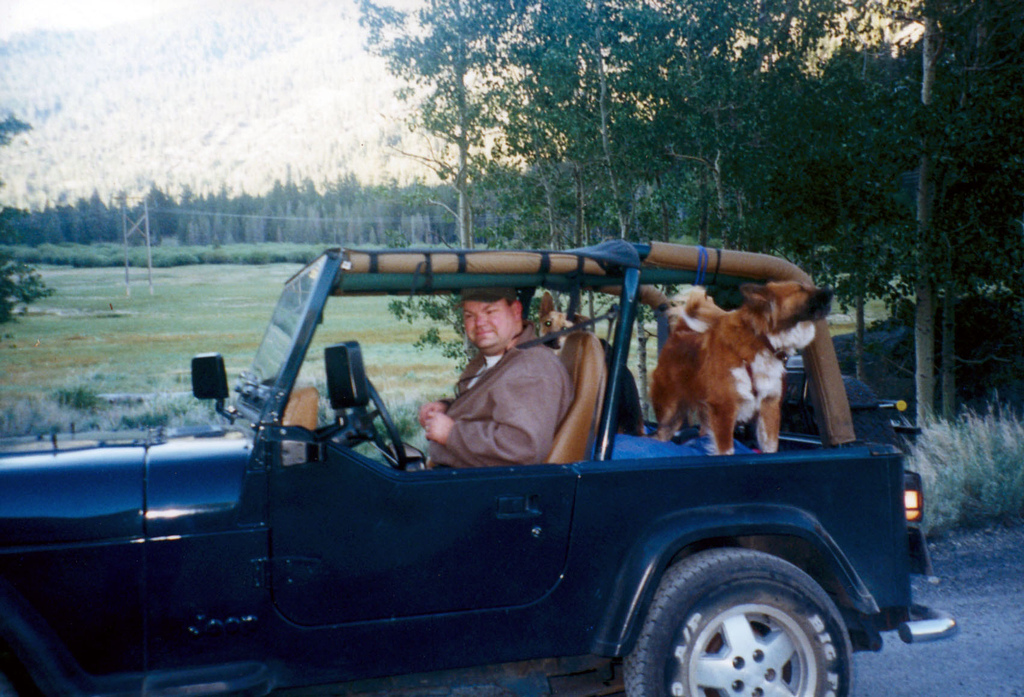 Above: Author on the way to Bodie with the Dogs circa 2006. Photo by wife.
Dog Only Lodging
If you just want to drop your dog off so you can have a nice dinner or you're staying in a campground or hotel that doesn't allow pets, Yosemite Hospitality operates a dog kennel in Yosemite Valley from Memorial Day to Labor Day. You'll need to supply written proof of immunizations (rabies, distemper, parvo, and Bordetella) to board your dog at the kennel. Dogs must be at least 20 pounds (smaller dogs may be considered if you provide a small kennel). You can get more information about the kennel by calling 209-372-8326.