Containment on the Railroad Fire increased yesterday as lower temperatures and higher humidity gave crews the break they'd been waiting for while some residents in Fish Camp were allowed to return to their homes.
Higher humidity and lower temperatures helped firefighters as they worked along the north and west flanks of the Railroad Fire extinguishing hot spots. Crews continued burning operations intended to create a defensive barrier between the fire and the communities of Sugar Pine and Cedar Valley. Bulldozers were also busy carving a fire break on the northeast side of the fire around Big Sandy and above Speckerman Mountain.
The fire is expected to continue spreading east toward Little Sandy and downslope from Speckerman Mountain Peak. Southwest spread will continue toward Sugar Pine and Cedar Valley with further spread potential into the Nelder Grove Historic Area, South to Calvin Crest, Corlieu Falls, and California Meadow.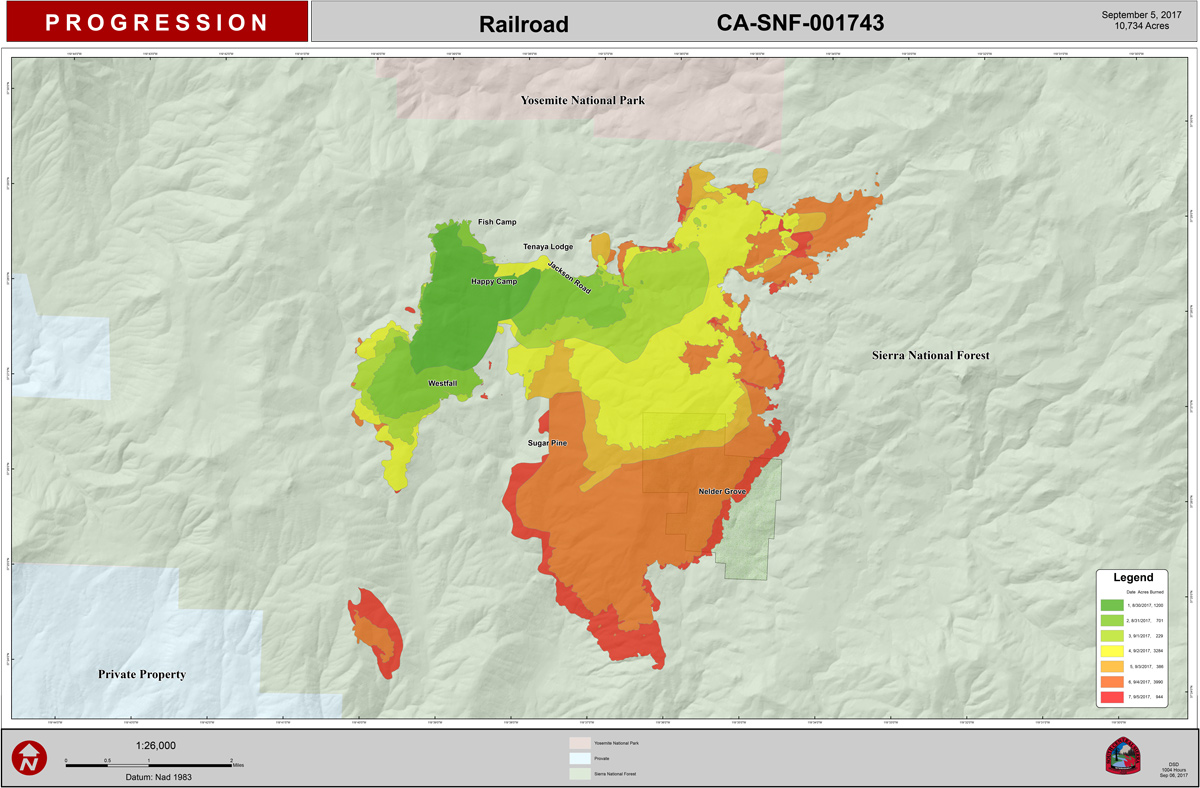 A chance of thunderstorms this afternoon is expected to bring lightning and strong outflow winds within the fire area. Thunderstorm risk and moderating temperatures will begin to decrease today as a high pressure system moves into the area bringing with it warm, dry air and higher temperatures through the weekend.
The fire is 35% contained with over 11,500 acres within th efire area. Current resources assigned to the fire include 14 hand crews, 7 helicopters, 89 engines, 14 dozers, and 872 personnel. Aircraft continue to play a critical role inthe firefighting effort and will work to support ground operations as conditions allow.
Highway 41 remains closed from south of Wawona to Sky Ranch Road while crews clear hazardous trees along the road grade. The Summerdale, Big Sandy, and Nelder Grove Campgrounds on the Sierra National Forest are closed. Sky Ranch Road is closed, as are roads between Beasore Road and Sky Ranch Road.