You've paid you're $30 to get into Yosemite and you're dead set on going to Yosemite Valley but after driving around for 3 hours all you've accomplished is seeing the sights from your car window. There's bad traffic and no parking. Don't let this be you on your next trip. Plan ahead, reserve parking.
Yosemite National Park is offering reserved parking spaces and they don't cost anything! That's right. I said FREE! If you head over to recreation.gov you can reserve parking in Yosemite Valley. You will have to pay the $1.50 processing fee from recreation.gov but that's trivial compared to the headache of the kids screaming because they've been in the car all day and the spouse giving you THE LOOK for your poor planning.
Here's the low down:
Parking reservations guarantee you a parking space in Yosemite Valley for one day – 7:30 am to 4:00 pm – and are available for passenger vehicles up to 20 feet in length.
There are 150 parking spaces available by reservation daily and availability is limited so book ahead. Don't wait until the day of your trip.
parking reservations are located in the newly designed Yosemite Falls Parking Area, located directly west of Yosemite Valley Lodge and south of Camp 4 in Yosemite Valley.
RV and trailer parking is NOT allowed. Passenger vehicles only.
You can also book by phone by calling 1-877-444-6777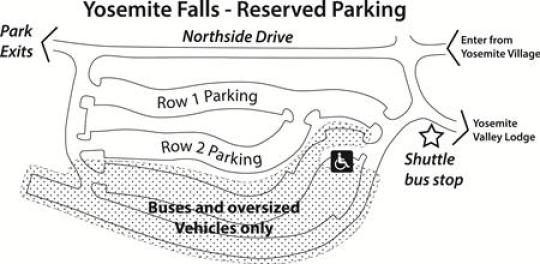 Don't let your next trip to Yosemite be your worst. Book a parking reservation on recreation.gov now and get rid of the headache of trying to find parking.