Ground and air crews are continuing to fight the Detwiler Fire which has already scorched over 11,000 acres west of Yosemite between the communities of Mariposa and Coulterville along Highway 49.
The fire continued to grow yesterday as high heat and low humidity coupled with ample fuel, and steep terrain made fighting the fire difficult. The communities of Hunters Valley, Bear Valley, and Hornitos continue to be threatened. Mandatory evacuations are in place.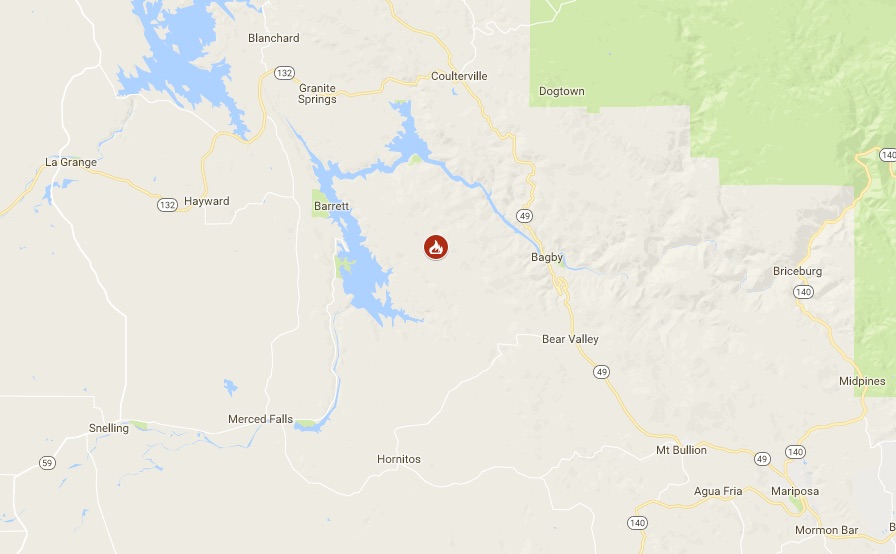 The fire is also threatening power lines to the south of the incident, which supply power to Yosemite National Park.
Evacuation Orders are in effect for: Hunters Valley Rd.; Hunter Valley Mt. Access Rd.; Bear Valley Rd. to Exchequer Rd.; HWY 49 to Pendola Garden Rd.; Pendola Garden Rd. to Old Toll Rd.;Mt. Bullion Rd. from HWY 49N to CYA Rd.; Old Toll Rd. between Corbett Creek Rd. and HWY 49N, including Corbert Creek Rd.; Mt. Gains Rd. to No.9 Rd. including No. 9 Rd.
Evacuation Advisories are in effect for : Mt. Gaines Rd. to #9 Rd.; Pendola Garden Rd. to Mt. Ophir off of HWY-49; Merced River to CYA Rd.; All of CYA Rd.; HWY 49N from Old Toll Rd. to Agua Fria Rd.; Ara known as Mt. Bullion; Mt. Bullion Cut Off Rd. and Agua Fria Rd. From HWY 49N to HWY 140.
Road Closures: HWY-49 at HWY-132 (Coulterville Rd.) Restricted access to locals with addresses in La Grange, Coulterville, or Greely Hillonly; HWY-49 at Pendola Garden Rd.;BearValley Rd. at Exchequer Rd.;Mt. Gains Rd. at #9 Rd.
Smoke is visible in Yosemite National Park, Yosemite Valley, and surrounding communities and may pose a hazard to sensitive groups or those with breathing difficulties.
The fire is currently 5% contained.