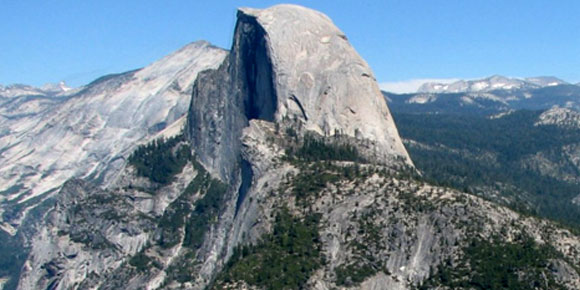 A massive sheet of rock has fallen from the vertical face of Half Dome, making one of the most popular routes attempted by climbers in North America even more challenging, park officials said Tuesday.
Climbers who were attempting the route came across a section where a granite sheet that roughly 100 by 200 feet had peeled off the face of Half Dome.
The rock fell from halfway up the face of Half Dome.
"What used to be relatively easy climbing has gotten much more difficult," park geologist and climber Greg Stock said.
There are several routes for climbers to scale Half Dome, but the one impacted when the rock fell ranks as one of the top 50 climbing destinations in North America, said Mike Gauthier, Yosemite's chief of staff and an avid climber.
Such falls occur often in Yosemite Valley and on other climbing destinations, forcing climbers to find new routes, he said.
"Now is their chance to find a new work-around," Gauthier said of Half Dome. "And they will."
Nobody was injured or witnessed the rock fall believed to have happened last week.  A path for hikers using cable handrails was not changed.