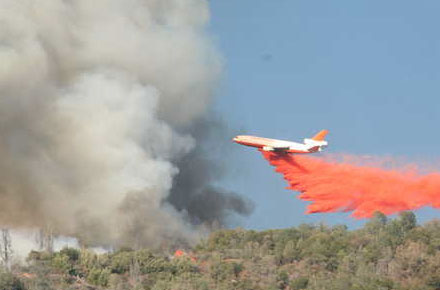 Highway 41 is closed in Oakhurst at the junction of SR 49 to 3.5 miles north of the junction due to a large wildfire burning just outside of town.
If you have reservations in Oakhurst please call before you head out. Areas in and around Oakhurst have been evacuated and schools have been closed due to the potential of this fire to move into more populated areas.
The Madera County Sheriff's Office has issued evacuation notices in the following areas. Residents in areas where evacuation warnings have been issued are asked to be ready to leave when ordered by the Sheriff's Office.
Evacuation warnings:
Road 632 and Cedar Valley. Indian Springs subdivision Road 427 subdivision Pierce Drive subdivision
Mandatory evacuations:
Jean Road East and West Scott Road Taylor Mountain The entire John West Road subdivision All businesses and residents along the Highway 41 corridor between Highway 49 and Road 632 (Sky Ranch Road)
Evacuees are being directed to the Coarsegold Community Center on Highway 41, where the American Red Cross has set up a shelter.
As of 9pm last night the fire had charred more than 1,200 acres and destroyed 8 structures.