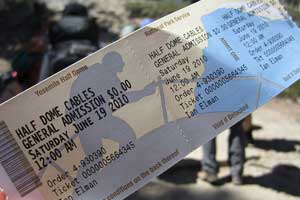 The Half Dome cables will be ready for use this Friday, May 16, 2014. Permits will be available on a first-come, first-served (not lottery) basis beginning Wednesday, May 14 (TODAY!!!), at 7 am PDT via http://www.recreation.gov/. Permits will be for May 16th to May 22nd, 2014.
I HIGHLY recommend getting to the Half Dome page BEFORE 7AM and having everything ready to go. A couple minutes before 7 start trying to submit. The times are based on the SERVER TIME which may be different than your clock or computer.
Permits are going to go quickly and I expect them to all be gone by 7:15. Don't be discouraged though, you have nothing to lose if you check after that time. This is an unexpected event and people may not have time in their schedules to use the permits.