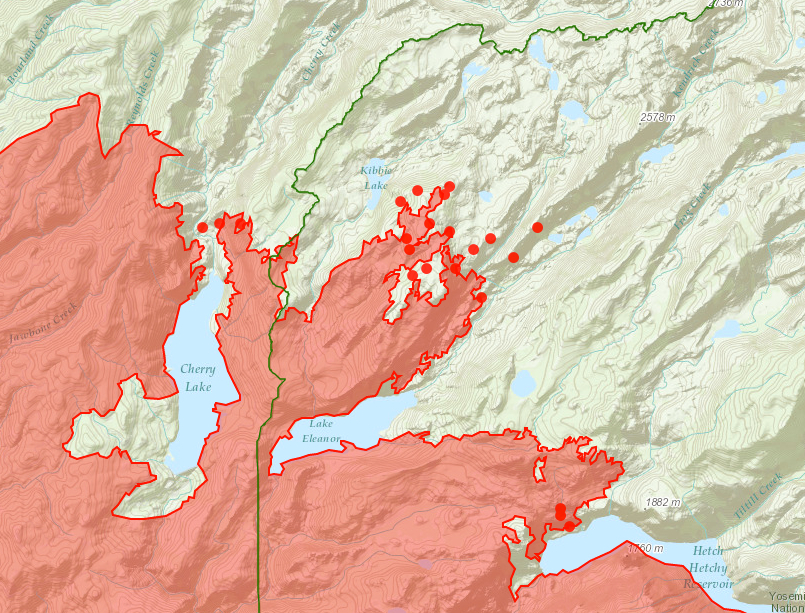 Fire crews are continuing to mop-up and patrol of fire lines with the objective of keeping fire within existing containment lines and natural barriers. The fire will continue to spread slowly in rocky areas within the Yosemite and Emigrant Wilderness Areas east of Cherry Lake and north of Hetch Hetchy reservoir. To date the Rim Fire has burned more than 256,000 acres, destroyed 11 buildings, injured 10 people and is only 84% contained. The cost of the Rim Fire is estimated at over $114.7 million.
Fire crews and equipment are continueing to work within the fire area. Caution should be taken as numerous hazards persist including smoke weakened trees and snags (that may fall) and hot burning stump holes. Do not stop or leave the roadway in the fire area.
Hetch Hetchy and Aspen Valley in Yosemite Park are closed to public access.
Tuolumne Grove and Hodgdon Meadow Campground remain closed due to the fire.
Yosemite Creek and White Wolf Campgrounds and White Wolf Lodge are closed for the season.
Tioga Pass Road (Hwy 120) is open across Yosemite National Park. Visitors are being asked not to stop along the road adjacent to the fire perimeter.
The Big Oak Flat Road is open to Yosemite Valley.
Evergreen Road is open only to Evergreen Lodge.
The Hetch Hetchy Road and surrounding areas and facilities remain closed.
Cherry Lake Road is closed at Hwy 120.
Old Yosemite and Harden Flat Roads are closed.
Some secondary roads within the fire area remain closed to non-residents.