As of last night the Rim Fire is holding at 80% containment with over 255,000 acres burned. To date the fire has cost an estimated $102 million, destroyed 11 residences, 3 businesses, 97 outbuildings and continues to threaten over 1200 structures.
Evergreen Road has opened to Evergreen Lodge. The road is still closed beyond the Lodge.
Extremely hot and dry conditions are continuing to cause difficulties for firefighters. The fire has been very active torching and spotting unburnt fuels inside the control lines. The fire is active in the Clavey River Reynolds Creek and Jawbone Creek drainages as well as to the west of Harden Lake Harden Road and Tioga Road. Moderate fire spread to the northeast into Yosemite Wilderness areas north of Hetch Hetchy reservoir is expected.
The Big Oak Flat Road is open into Yosemite Valley.
Highway 120 is open to Crane Flat from the West and to 1 1/2 miles east of White Wolf.
Businesses along the road are open and providing services (gasoline food and lodging) for travelers.
Cherry Lake Road is closed at Highway 120.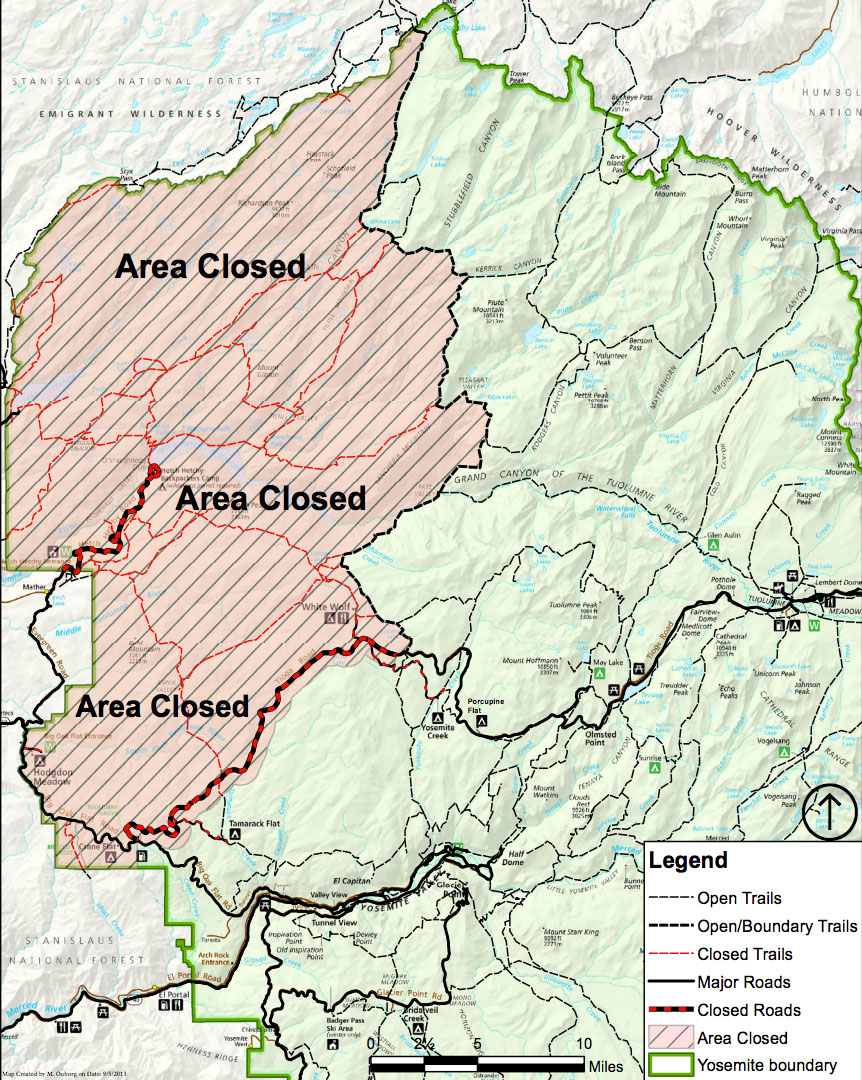 The Old Yosemite Road and Hardin Flat Road are also closed.
The Hetch Hetchy Road, including all areas and facilities along the road, is closed.
The area west of the Lukens Lake trail north along the Harden Lake bypass trail to Pate Valley, and north from Pate Valley to the junction with the Pacific Crest Trail (PCT) then continuing north along the PCT to Bond Pass is closed. The park's boundary serves as the closure's northern and western edge south to Crane Flat. The closure continues east ½ mile south along the Tioga Road to the gate 1 ½ miles east of White Wolf.