Great news for everyone who has been following, the Rim Fire has reached 80% containment. Evacuation advisories have been lifted along Highway 108 from Ponderosa Hills to Pinecrest.
Wildland Fire Modules are assigned north of Cherry Lake and Lake Eleanor to monitor the fires advancement and contain spread in the rocky terrain. Line construction with burnout is planned south of Harden Lake where warranted. Continued burnout operations are planned along the Tioga Road as conditions allow. Additional burnout operations and reinforcement of control lines to the north and northwest of the fire will continue.
The major problem for this fire is currently the high levels of smoke and particulate matter in the air. Wind change causing smoke to blow into Yosemite Valley and south along the Sierra have triggerd health advisories from the air pollution control districs. If you are bothered by bad air, have a history of asthma or a breathing condition please use caution when traveling in the Sierra over the next few weeks.
As of this morning, Highway 120 into Yosemite from both directions remains closed.
Cherry Lake Road is closed.
Evergreen Road and Hetch Hetchy are closed.
The Old Yosemite Road is closed.
Highway 120 from Ferretti Road to Buck Meadows remains open for local residents and businesses only.
The Big Oak Flat Road (the continuation of Highway 120 inside Yosemite) remains closed from Big Oak Flat Entrance Station to Crane Flat.
The area west of the May Lake Road and May Lake Trail continuing to the junction with the Pacific Crest Trail (PCT) at Glen Aulin and then north along the PCT to Bond Pass remains closed.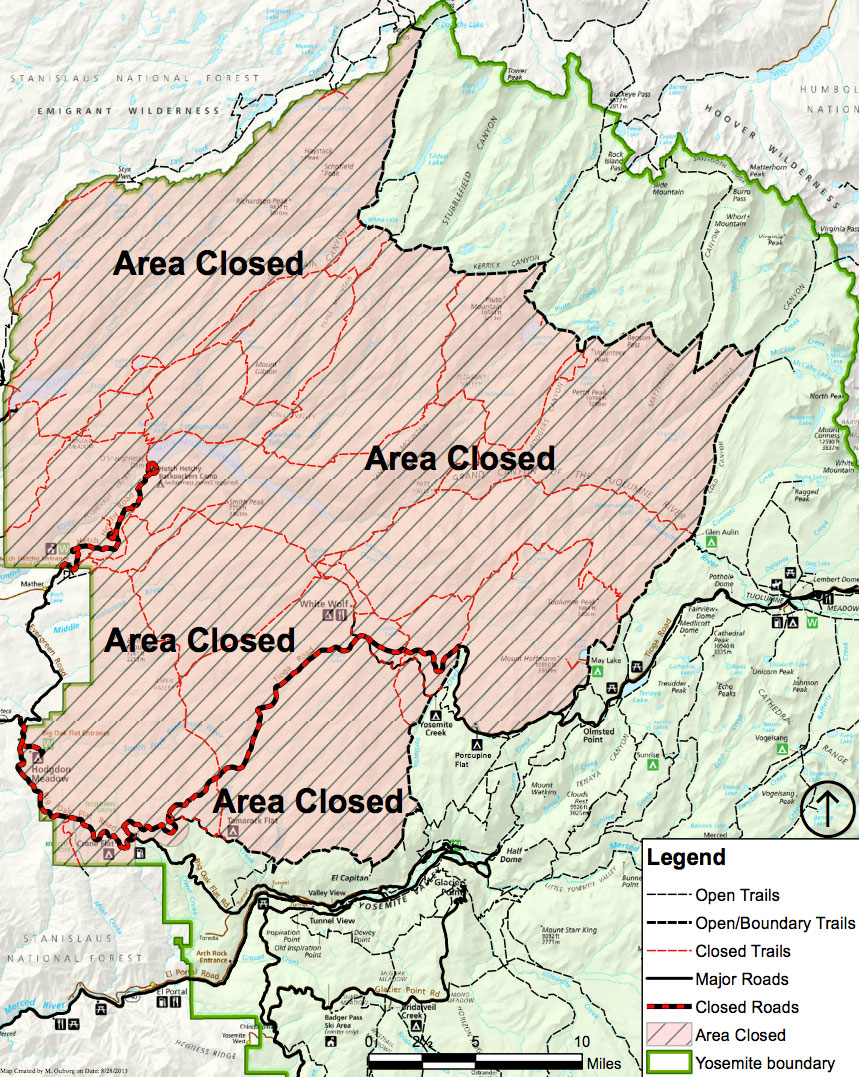 The following Fire restrictions are in effect throughout the Yosemite Wilderness: no smoking and no building, maintaining, attending, or using a fire, campfire, or cooking fire (including charcoal fires) within Yosemite Wilderness or at the High Sierra Camps. Portable stoves using gas or pressurized liquid fuel are allowed. Alcohol and "Sierra" stoves may not be used in wilderness under these restrictions.
Campfires and cooking fires may be used in the following designated campgrounds and picnic areas in developed portions of the park only: Upper Pines campground, Lower Pines campground, North Pines campground, Camp 4 campground, Wawona campground, Bridalveil Creek campground, Hodgdon Meadow campground, Crane Flat campground, Tamarack Flat campground, White Wolf campground, Yosemite Creek campground, Porcupine Flat campground, Tuolumne Meadows campground, Lembert Dome picnic area, Tenaya Lake pinic area, Yosemite Creek picnic area, Wawona picnic area, Mariposa Grove picnic area, Glacier Point picnic area, Cascade picnic area, El Capitan picnic area, Cathedral Beach picnic area, Sentinel Beach picnic area, Swinging Bridge picnic area, Church Bowl picnic area, and Lower Yosemite Fall picnic area.
May Lake High Sierra Camp, Glen Aulin High Sierra Camp, and Porcupine Flat Campground are open.
Tuolumne and Merced Groves of Giant Sequoia, Hodgdon Meadow and Crane Flat Campgrounds, and the Big Oak Flat Information station are all closed.