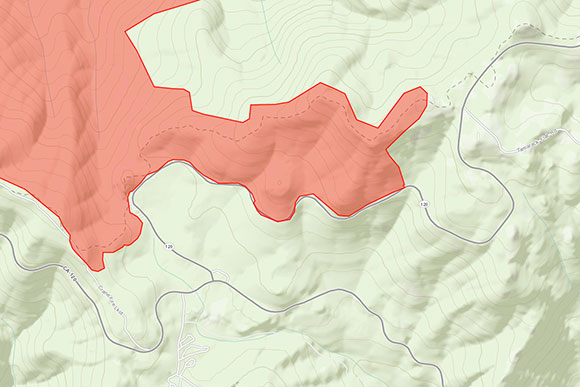 As of last night the Rim Fire is over 70% contained but continues to pose a threat as high winds and extremely dry conditions within the Sierra persist. There remains significant potential for long-range spotting to advance beyond control lines. The fire has been burning actively along the south and east fire perimeters in Yosemite National Park. To date the fire has scorched over 235,000 acres, destroyed 11 homes, 3 businesses and injured 5 people. To date the cost of this fire is over $72 million. The above image is a screenshot of the Arcgis Wildland Fire map showing active burning along The Big Oak Flat Road and the Tioga Road at Crane Flat in Yosemite.
The Stanislaus National Forest has issued an area closure for the entire Groveland Ranger District and for the Mi-Wok Ranger District east of Highway 108.
Highway 120 remains closed due to the fire burning along the roadway.
Cherry Lake Road is closed.
Evergreen Road and Hetch Hetchy are closed.
The Old Yosemite Road is closed.
Highway 120 from Ferretti Road to Buck Meadows remains open for local residents and businesses only.
An evacuation advisory remains in effect for Ponderosa Hills and areas east, along the south side of Highway 108 up to Pinecrest.
Highway 120 at the Yosemite National Park boundary west to Buck Meadows has been evacuated.
The Big Oak Flat Road (the continuation of Highway 120 inside Yosemite) remains closed from Big Oak Flat Entrance Station to Crane Flat.
The area west of the May Lake Road and May Lake Trail continuing to the junction with the Pacific Crest Trail (PCT) at Glen Aulin and then north along the PCT to Bond Pass remains closed.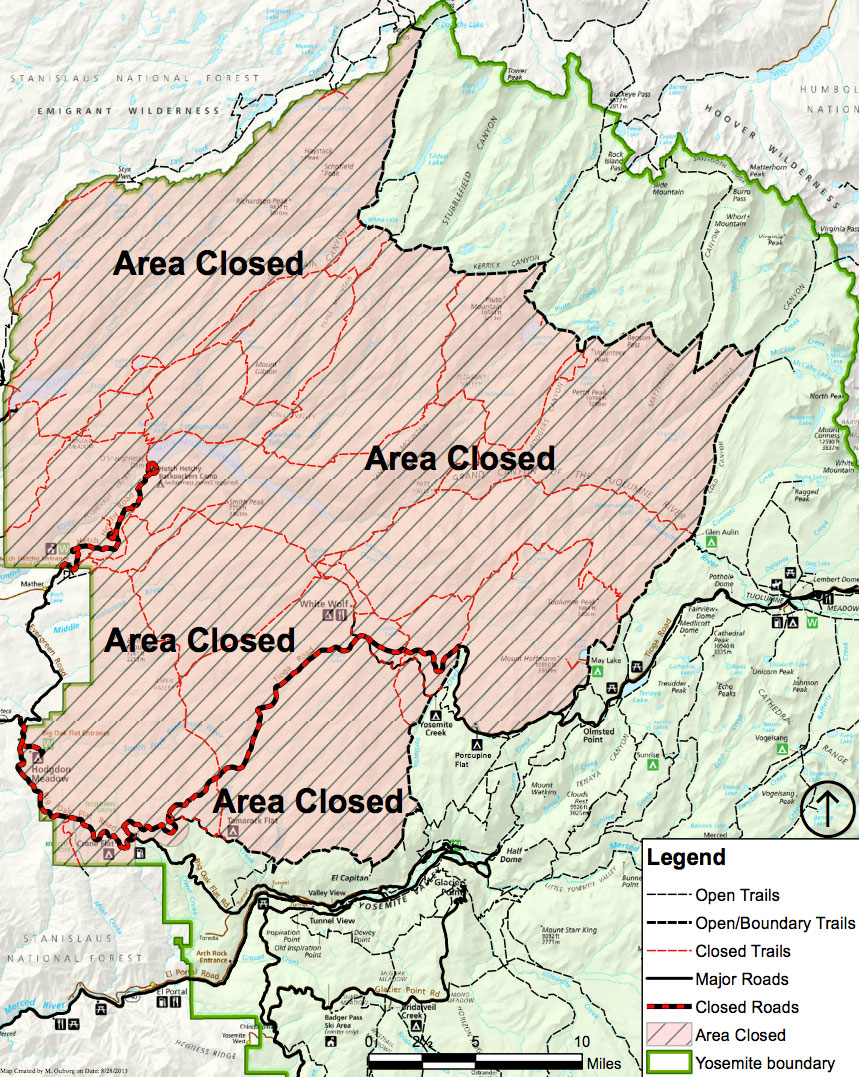 The following Fire restrictions are in effect throughout the Yosemite Wilderness: no smoking and no building, maintaining, attending, or using a fire, campfire, or cooking fire (including charcoal fires) within Yosemite Wilderness or at the High Sierra Camps. Portable stoves using gas or pressurized liquid fuel are allowed. Alcohol and "Sierra" stoves may not be used in wilderness under these restrictions.
Campfires and cooking fires may be used in the following designated campgrounds and picnic areas in developed portions of the park only: Upper Pines campground, Lower Pines campground, North Pines campground, Camp 4 campground, Wawona campground, Bridalveil Creek campground, Hodgdon Meadow campground, Crane Flat campground, Tamarack Flat campground, White Wolf campground, Yosemite Creek campground, Porcupine Flat campground, Tuolumne Meadows campground, Lembert Dome picnic area, Tenaya Lake pinic area, Yosemite Creek picnic area, Wawona picnic area, Mariposa Grove picnic area, Glacier Point picnic area, Cascade picnic area, El Capitan picnic area, Cathedral Beach picnic area, Sentinel Beach picnic area, Swinging Bridge picnic area, Church Bowl picnic area, and Lower Yosemite Fall picnic area.
May Lake High Sierra Camp, Glen Aulin High Sierra Camp, and Porcupine Flat Campground are open.
Tuolumne and Merced Groves of Giant Sequoia, Hodgdon Meadow and Crane Flat Campgrounds, and the Big Oak Flat Information station are all closed.