The Rim Fire is now over 32% contained and is expected to be completely contained by September 20th. To date the fire has burned almost 200,000 acres, destroyed 11 residences/buildings and has been responsible for 4 injuries.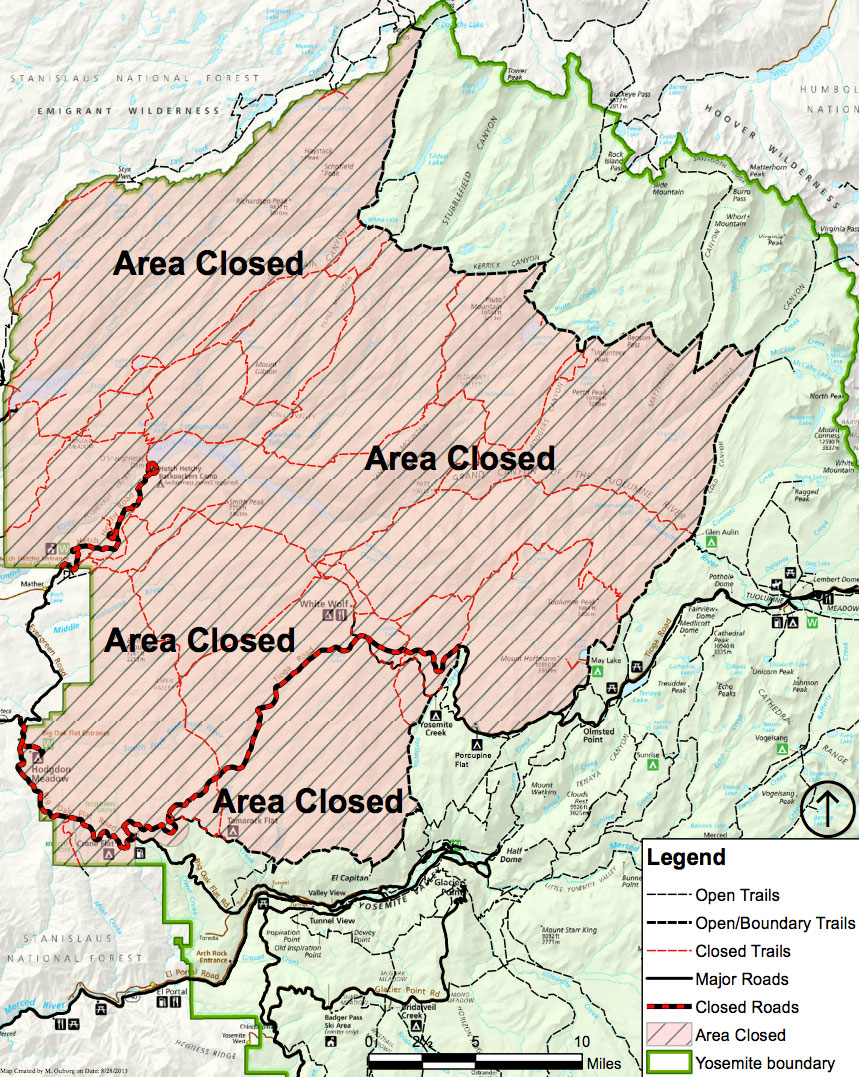 Highway 120 in both directions into Yosemite is still closed to through traffic.
The area west of the May Lake Road and May Lake Trail continuing to the junction with the Pacific Crest Trail (PCT) at Glen Aulin and then north along the PCT to Bond Pass is closed.
The following Fire restrictions are in effect throughout the Yosemite Wilderness: no smoking and no building, maintaining, attending, or using a fire, campfire, or cooking fire (including charcoal fires) within Yosemite Wilderness or at the High Sierra Camps. Portable stoves using gas or pressurized liquid fuel are allowed. Alcohol and "Sierra" stoves may not be used in wilderness under these restrictions.
Campfires and cooking fires may be used in the following designated campgrounds and picnic areas in developed portions of the park only: Upper Pines campground, Lower Pines campground, North Pines campground, Camp 4 campground, Wawona campground, Bridalveil Creek campground, Hodgdon Meadow campground, Crane Flat campground, Tamarack Flat campground, White Wolf campground, Yosemite Creek campground, Porcupine Flat campground, Tuolumne Meadows campground, Lembert Dome picnic area, Tenaya Lake pinic area, Yosemite Creek picnic area, Wawona picnic area, Mariposa Grove picnic area, Glacier Point picnic area, Cascade picnic area, El Capitan picnic area, Cathedral Beach picnic area, Sentinel Beach picnic area, Swinging Bridge picnic area, Church Bowl picnic area, and Lower Yosemite Fall picnic area.
May Lake High Sierra Camp, Glen Aulin High Sierra Camp, and Porcupine Flat Campground are open.
Tuolumne and Merced Groves of Giant Sequoia, Hodgdon Meadow and Crane Flat Campgrounds, and the Big Oak Flat Information station are all closed.
Burnout operations are expected to continue south of Highway 120 on the southeastern edge of the fire from Pilot Ridge to Big Oak Flat Entrance Station. Continued direct and indirect line construction, accompanied by burnout operations where accessibility and safety allow are scheduled to take place along the northern and eastern edges of the fire. Continued contingency line construction in advance of the communities of Tuolumne City, Twain Harte, and Long Barn will continue as well as mopup and and contingency line construction along the western and southern edges of the fire. Crews will continue constructing and improving contingency lines along Dodge Ridge. A large burnout operation is planned for the eastern edge of the fire in Yosemite National Park when conditions become favorable.