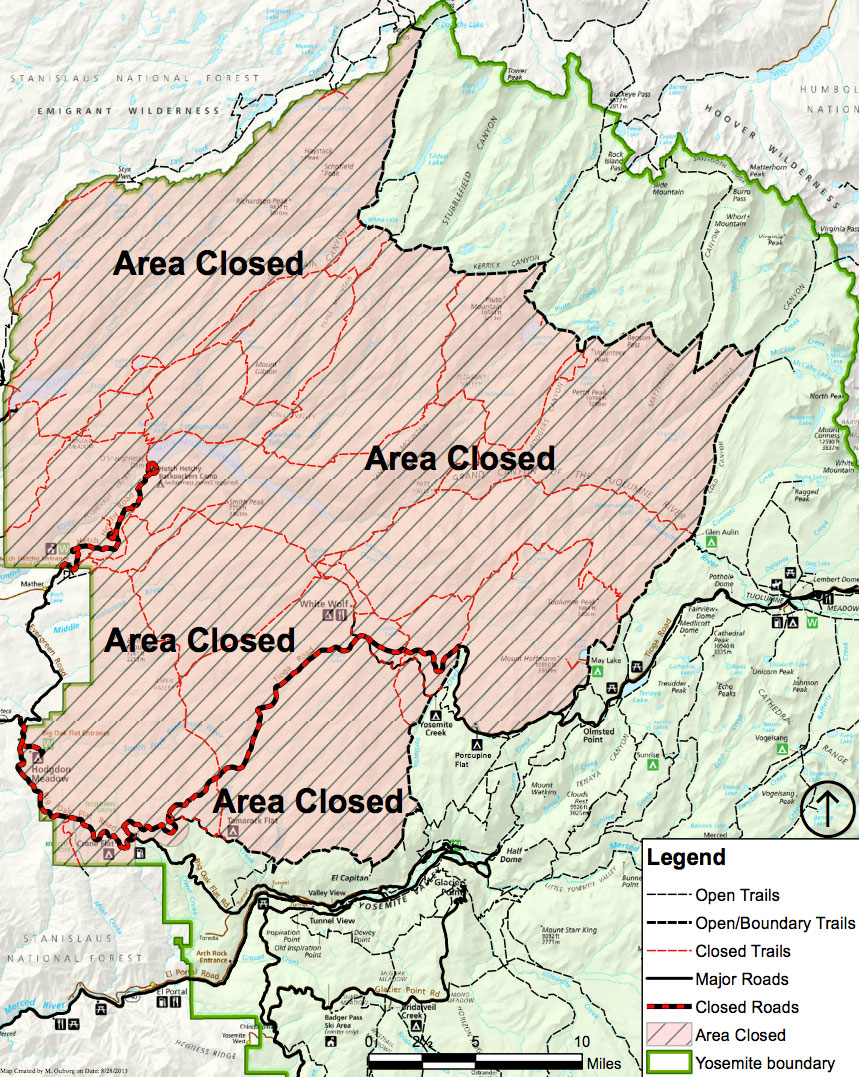 The Rim Fire is now 30% contained but has consumed almost 200,000 acres. Four injuries have now been reported since the fire was spotted August 17th.
The fire is continuing to burn towards the Tioga Road in Yosemite National Park. Backfires were not lit yesterday because it was deemed conditions were not conducive to lighting and containing the fire. Firefighters will continue to provide structure defense and improve firelines in the meantime.
Tamarack Flat and Yosemite Creek Campgrounds are closed. White Wolf Campground and White Wolf Lodge will remain closed.
Highway 120 remains closed to Yosemite.
The Tioga Road, from Crane Flat to White Wolf, is closed.
Cherry Lake, Evergreen Road and the Old Yosemite Road are also closed.
The Tuolumne County Sherriff's Office has lifted the evacuation order for some areas and power is being restored. Highway 120 from Ferretti Road to Buck Meadows remains open only for local residents and business only.
Please keep in mind burned areas continue to pose a danger from falling snags and caution should be used.
May Lake High Sierra Camp, Glen Aulin High Sierra Camp, and Porcupine Flat Campground are open.
The area west of the May Lake Road and May Lake Trail continuing to the junction with the Pacific Crest Trail (PCT) at Glen Aulin and then north along the PCT to Bond Pass is closed.
Tuolumne and Merced Groves of Giant Sequoia, Hodgdon Meadow, Crane Flat Campgrounds, and the Big Oak Flat Information station are closed.
The Crane Flat gas station and store are open.
The Hetch Hetchy Road, including all areas and facilities along the road, is closed.
Tamarack Flat, White Wolf, Yosemite Creek Campgrounds, White Wolf Lodge and Ten Lakes Trailhead parking are closed.
Yosemite Creek Picnic Area is open.