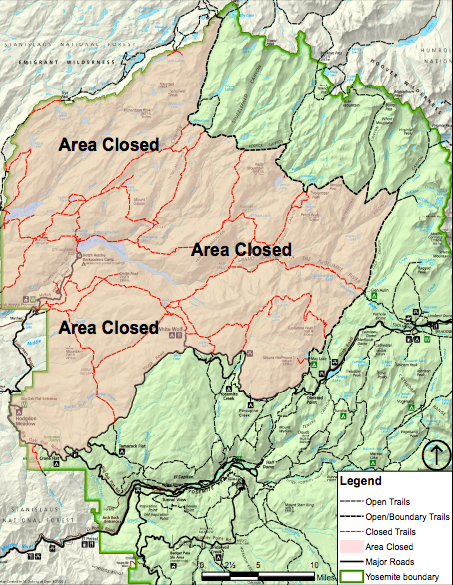 The Rim Fire has made it's way well into Yosemite National Park and is burning in the north west side of the park and the areas adjacent to Hetch Hetchy. Currently a number of closures are in place for public safety and to allow fire crews to actively fight the fire and prepare defenses around key environmental areas and structures.
Here's the most recent list of closures from the National Park Service:
The Big Oak Flat Road and Highway 120 west of Yosemite are closed between J132 near Buck Meadows (outside the park) to Crane Flat Campground (inside the park). If you are trying to get to Yosemite from the west, it's advised you use Highway 140 from Merced. If you find yourself almost in Groveland you can take Highway 49 to Highway 140 in Mariposa (it's a long VERY curvy, VERY narrow mountain road). You may also enter Yosemite via Highway 41 from the south and 120 from the east (Tioga Pass).
Hetch Hetchy Road and Evergreen Road are closed.
White Wolf is closed, including the lodge, campground, road, and trails originating from White Wolf. This area is closed due to smoky conditions.
Crane Flat, Hodgdon Meadow Campground and Hetch Hetchy Backpackers' Campground are closed.
Merced and Tuolumne Groves of Giant Sequoias are closed so firefighters can work on preventive fire suppression efforts. The groves are not currently in imminent danger.
Wilderness trail closures: The area west of the May Lake Road and May Lake Trail continuing to the junction with the Pacific Crest Trail (PCT) at Glen Aulin and then north along the PCT to Bond Pass is closed. The park's boundary serves as the closure's northern and western edge extending south to Crane Flat Campground. The closure boundary continues east along the Tioga Road (Highway 120 through the park) to the May Lake Road. The Tioga Road and the trails serving as the eastern boundary of the closed area (including the PCT) remain open. May Lake High Sierra Camp, Glen Aulin High Sierra Camp, and Porcupine Flat Campground are open.
Fire restrictions: No smoking and no building, maintaining, or using a fire, campfire or cooking fire (including charcoal fires) within the Yosemite Wilderness and potential wilderness additions. Portable stoves using gas or pressuring liquid fuel are allowed. Alcohol and Sierra stoves are not allowed. Campfires may still be used in designated campsites at designated campgrounds in non-wilderness areas within the park.
All other roads and areas are open. Yosemite Valley, Glacier Point, Wawona, Mariposa Grove, and Tuolumne Meadows areas are all open. Campgrounds in Wawona, Bridalveil Creek, Yosemite Valley, Porcupine Flat, and Tuolumne Meadows are open.