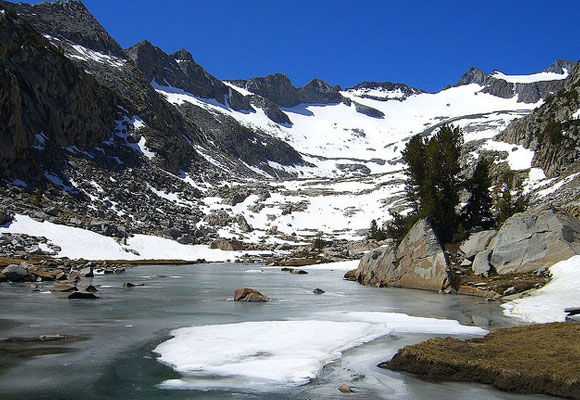 The Lyell Glacier in Yosemite National Park. Photo by Fred Sharples via Flickr.
Conspiracy theorists will yell "there's no such thing", while climatologists are saying "I told you so" but for whatever reason, climate change or what-have-you, the The Lyell Glacier, the largest glacier in Yosemite National Park, has stopped moving.
Normally, glaciers move and grow in a downhill direction. This is how they've carved out the landscape of Yosemite for thousands of years. The lack of motion by the largest glacier in Yosemite is indeed something to take note of. Glaciers form by the accumulation of snow, and move downhill by flowing and sliding down a slope. A glacier's health is determined by the amount of winter snowfall it receives compared to the amount of melting it does in the summer. The movement of a glacier is primarily determined by the glacier's thickness and steepness of the slope on which it resides. Because they are sensitive to environmental conditions, glaciers are important indicators of climate change.

Find out more about the glaciers in Yosemite National Park by watching this episode of Yosemite Nature Notes.
The Lyell and Maclure Glaciers have been tracked by as far back as John Muir. Tracking a glacier involves pounding a stake in at the edge of the glacier and seeing how far it moves over a four year period.
Data collected from the stakes placed on the Lyell Glacier showed that no movement has occurred in the last several years. Earlier research on the glacier showed that it was moving in the 1930's. Stagnation has therefore occurred since that time, perhaps within the past decade. In addition, the Lyell Glacier has decreased in size by about 60% since 1900, and has thinned by approximately 120 vertical feet. This thinning of the glacier is most likely why the glacier has stopped moving.
"The Lyell Glacier has historically been recognized as the largest glacier in Yosemite National Park and the second largest in the Sierra Nevada," said Yosemite National Park Geologist Greg Stock, who co-led the investigation with Robert Anderson of the University of Colorado. "However, the lack of movement suggests that the term 'glacier' no longer accurately describes this feature."
The team also measured the Maclure Glacier, which is adjacent to the Lyell Glacier. John Muir first documented movement of this glacier in 1872. The research team mimicked Muir's measurements in 2012 by measuring stakes over the same period of the melt season. Despite a similar amount of ice loss as the Lyell Glacier, the team found that the Maclure Glacier continues to move at the same rate as that measured by Muir, about one inch per day. Although the Maclure Glacier has also thinned substantially, it is still thick enough to move and flow.