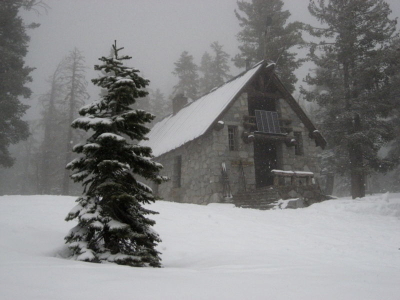 Back country skiing is a great way to see a side of Yosemite few rarely see. It's even better when you get to stay in a heated stone cabin for a night sharing stories with other skiers. Such is the case with the Ostrander Ski Hut. "Hut" is such a misnomer, though. The hut is, in actuality, a rustic two-story stone cabin built in 1941 with a full time attendant; situated at the edge of Ostrander Lake (8,500 feet). It's about 10 miles on the trail from Badger Pass and has some of the most breathtaking winter views you'll ever see. Accommodations are suitable for individuals or groups up to 15. There are single bunks with mattresses, community cookware stocked in a common kitchen, wood for heating, solar powered electric lights for evening use and two outdoor toilet facilities.
Unfortunately, demand to stay the night in the hut is high so every year the Yosemite Conservancy holds a lottery for registration dates. There's also a small fee of $35 Mon-Thurs and $55 Fri-Sun.
If you'd like to sign up for your chance to get a night's stay in the hut now's your chance. The Yosemite Conservancy lottery is going on now. Visit www.YosemiteConservancy.org/Ostrander to get your application and a list of equipment. Fill out your lottery applications and have it back by no later than 5:00 p.m. PST on Nov. 14.
The annual registration lottery is scheduled for Nov. 15. Starting on Nov. 26, remaining reservations will be available for first-come, first-served booking by calling 209-379-5161. There's no guarantee you'll get a reservation if you wait until after the lottery to phone in. The lottery is your best shot at locking down the date you want.
The ski hut is open mid-December through the end of March.