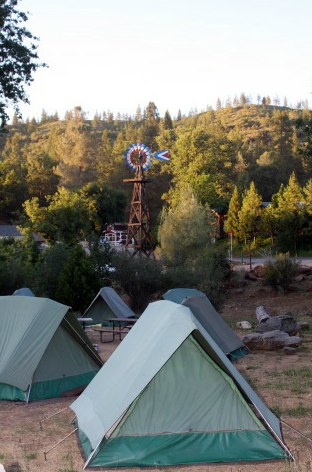 I'd like to take a moment to thank Yosemite Pines RV in Groveland for sponsoring Yosemite Blog for another year. If you've never had a chance to stay at Yosemite Pine RV you should check it out. They have a great place just off Highway 120 east of Groveland just minutes outside of Yosemite. They offer an assortment of cabin rentals, camp sites for tents, rv sites and even yurts for a truly unique vacation.
They also have lots of things to do for the family while you're back at camp after a day of hiking in Yosemite. Relax in their pool, wander through the gold mine tour with your kids, play volleyball in the sand volleyball court, let the kids play tetherball or pet the animals in the petting farm and playground. There's also horseshoes, bbq areas, campfire areas, cable television at some sites and free wifi. And you can bring your pets!
It's a great family place and we're proud to have them as a sponsor. For more information you can check them out at yosemitepinesrv.com and be sure to Like them on Facebook to stay up with what's going on, events, and special offerings.