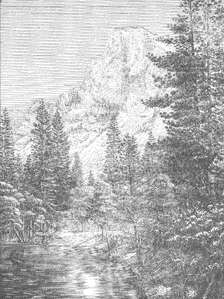 On this day in 1851 Yosemite Valley was reportedly first seen non natives.
While the members of that first expedition of the Mariposa Battalion had heard rumours of what could be found up the Merced River, none were prepared for what they saw March 27, 1851 from what is now called Old Inspiration Point (close to the better visited Tunnel View). Dr. Lafayette Bunnell later wrote:
"The grandeur of the scene was but softened by the haze that hung over the valley — light as gossamer — and by the clouds which partially dimmed the higher cliffs and mountains. This obscurity of vision but increased the awe with which I beheld it, and as I looked, a peculiar exalted sensation seemed to fill my whole being, and I found my eyes in tears with emotion."
Lafayette Houghton Bunnell (1824-1903) was a member of the Mariposa Battalion that became the white discoverers of the Yosemite Valley in 1851 when they rode out in search of Native American tribal leaders involved in recent raids on American settlements. Dr. Bunnell later served as a surgeon in the Civil War. Discovery of the Yosemite, and the Indian war of 1851 (originally published 1880) contains his account of that event, beginning with the history of the battalion and the tribal unrest that inspired its creation.
Thanks, Dane.
Illustration from Discovery of the Yosemite (1892) by Lafayette H. Bunnell