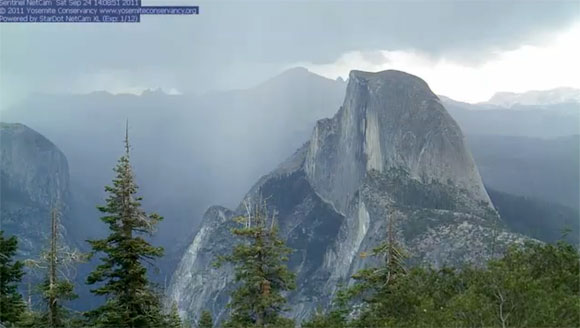 This year an unprecedented amount of visitor fatalities has even seasoned Yosemites' scratching their heads trying to figure out what's go on with visitors that they're taking such unnecessary risks with their life. Finally the survivor of a near death experience on Half Dome may provide answers officials have been looking for. The message that Yosemite is a wild, dangerous place needs to be stronger.
Armando Castillo knew he should not attempt the last treacherous stretch up Half Dome with storm clouds looming. But he felt he had come too far not to accomplish his goal.

So up the side of the slick, granite monolith he went, 400 vertical feet at nearly a 40 percent grade.

"About three-quarters of the way up it started hailing," he said. "There's a bunch of people and everybody just stops. Some women started crying because it was slippery and pretty scary. Then it cleared up."

While others turned back, Castillo pushed on up the park's iconic feature, making him one of Yosemite National Park's worst nightmares— the increasing number of wilderness neophytes who mistakenly think the government is obligated to save them.

"People are pushing their luck, trying to beat the weather, and their backup plan is to call for a rescue," said Mark Marschall, project manager for the Half Dome interim permit program. "They're not understanding what that means. We can't fly in that kind of weather. They're on their own."

The problem has surfaced in recent weeks on the park's most inspiring hike, where visitors confronted by unseasonable rains are ignoring warning signs and common sense. With less than a month to go until the Half Dome route is closed, park officials are making a rare appeal for visitors to use discretion on the trail.

"Over the last few weekends we've had some lightning and thunderstorms on Half Dome, but people are still going up," said park spokesman Scott Gediman, who adds that for two weekends in a row people have called 911 for rescue.

Some callers tell the dispatcher they want to use their platinum credit card for the free helicopter ride some companies guarantee in an emergency. Park officials don't charge for rescues — nearly 1,000 rescues cost more than $2.5 million between 2007 and 2010 — but neither do they fly in dangerous weather. (via CTPost.com)
Be sure to read the rest of the article here. It really opens your eyes to the mindset people now have that Yosemite has become a theme park.