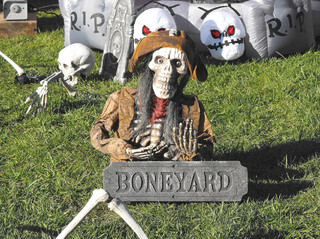 The following article is sponsored by Yosemite Pines RV.
Yosemite Pines RV and Family Lodging will usher in the Halloween "spirit" with a party open to all on Saturday, October 24th from 6PM to 10PM. The party is free to Yosemite Pines guests and the charge to the public is only $5.00.
And if you want to enjoy all of the fun that the park offers before and after the party, take advantage of their current lodging special. Book one night and receive 50% off the second night on all reservations for RV Sites, Tent Sites, Cabin and Yurts! Just give them the code #99103109 when you call to reserve.
All of the details are here: http://www.yosemitepinesrv.com/yosemite-lodging-camping-specials.html
Come to the party in your best costume and enter the contest for great prizes. The evening starts with a buffet supper then all party-goers can climb aboard the Haunted Hayride! Take a ride you will only experience on Halloween at Yosemite Pines. Its path ends at the cemetery with floating ghosts and skeletons. Remember Yosemite Pines has its own abandoned Gold Mine with history of years past.
The Mad Scientists Lab & The Butcher Shop of Horror will have surprises for guests of every age. Check out some photos of the fun from years past. http://lodging.vflyer.com/home/flyer/home/2823212
Yosemite Pines RV and Family Lodging is only 22 miles from the entrance of Yosemite National Park. This is the time of the year to enjoy the changing colors as the leaves shimmer in the fall sunlight. Enjoy the day at the park and then finish your day with a spooky evening at Yosemite Pines RV.
For more information visit www.Yosemitepinesrv.com or call (209) 962-7690 to make a reservation and take advantage of this great fall special.