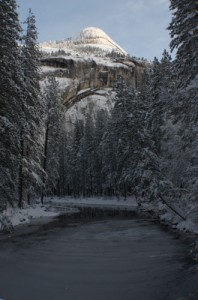 That's it. The headline pretty much says it. I know I'll be heading up to this ski area for opening weekend! The snow is amazing -I spoke with the Director of Guest Recreation who took a few "test turns" today, and he was really impressed with how nice the skiing was – firm but soft and powdery, even on the groomed runs. What a great kick-off to the snow season. Even the snow in the Valley is spectacular right now. I'm not the most accomplished photographer, but I took this pic on my morning "commute". Not a bad walk, if I do say so myself.
Anyway, I've been hearing great stories about the newly refurbished Eagle lift at Badger Pass, and the remodeling that they've done inside the lodge. Stand by for burritos and pizza upstairs, please. The excitement level has really gone up several notches here in the Valley since the announcement. Come on up and join in.
The Press Release – as promised

Yosemite's Badger Pass Ski Area Opens for 2008-2009 Winter Season
New Chairlift Improvements and "Learn to Ski: Guaranteed" Herald Family Fun for the Holidays


YOSEMITE NATIONAL PARK, Calif., December 17, 2008 – California's first ski resort, Yosemite's Badger Pass Ski Area, will open on Saturday, December 20 for downhill skiing, snowboarding and cross-country skiing. The popular family destination received 24 to 36 inches of new snow since Sunday night, and groomers are out on the hill today packing down the snow and building the base.

"We had to wait a little longer this year for Mother Nature to cooperate," said Colin Baldock, Manager of Guest Recreation for DNC Parks & Resorts at Yosemite, Badger Pass' official concessionaire. "Now that the snow is finally here, we're truly excited for the guests that will ski at Badger Pass, because they'll be the first to enjoy the major improvements we've made to the Eagle chairlift. Over two million dollars was spent this past summer to refurbish the lift, and its riders will notice the comfortable new chairs and smooth ride to the top of the mountain."

Whether guests visit Yosemite for one day or multiple days, Yosemite's Badger Pass Ski Area has discounted winter packages that fit anyone's budget:

Learn to Ski or Snowboard: Guaranteed
With a family-friendly atmosphere and a long history of ski instruction, Badger Pass is the perfect place to learn to ski or snowboard. The Guaranteed Learn to Ski or Snowboard Package includes daily equipment rental, beginner lift ticket and morning and afternoon group lesson. Plus, if we don't have you successfully skiing or snowboarding off the beginner lift by the end of your first day, return free of charge until you can.

Stay 'N Play Package
Our new Stay N' Play package includes passes for recreational activities (valued at $148 for adults / $111 for children), for each mid-week night that you stay at one of our properties. Explore all the fun things to do in Yosemite while staying in the most convenient locations inside the park (The Ahwahnee, Yosemite Lodge at the Falls, Wawona Hotel, or Curry Village). The pass includes one all-day lift ticket, one all-day rental (choose one: skis, snowboard, or cross-country skis), one group lesson, one tubing session, one ice skating session including skate rentals, and one Valley Floor Tour per person for each night that you stay.

Each component of the pass may be used once each day. This offer may be used with any other DNC lodging offer or package, is valid Monday through Friday, but not valid on holidays or holiday weekends. Prices vary depending on your accommodations. Additional passes may be purchased for people staying at the hotel for $35 per adult and $20 per child (aged 12 and under) at the hotel front desk. The Stay 'N Play package is only available for guests staying with us December 22, 2008 through March 29, 2009. (Note: availability of activities subject to weather conditions, and black-out dates apply ~ check www.BadgerPass.com for details).
– more –

Annual Park Pass Upgrades
For guests planning on visiting more than once this year, we're offering a free upgrade from the weekly park pass to an annual Yosemite park pass (a $20 value). There are two ways to qualify for this upgrade. Guests making new reservations for stays between now and February 29 for two nights or more can ask for this free upgrade. Additionally, guests visiting Yosemite's Badger Pass Ski Area can get this free upgrade when they spend $60 or more on activities and rentals.

On weekends and holidays, All-day lift tickets are $42 for adults, $37 for youths, and $20 per child (12 and under). Half-day lift tickets are $33 for adults, $30 for youths, and $16 per child. Midweek (Monday through Friday, non-holiday) All-Day lift tickets are $35 for adults, $35 for youths, and $16 per child. Half-day lift tickets are $30 for adults, $30 for youths, and $16 per child. Youngsters 6 years of age and under ski free with a paying adult, and seniors age 65 and older ski free midweek.

Food service begins at Badger Pass at 8:00am daily, with ticket sales for downhill skiing beginning at 8:30 for use until 4:00pm each day. Rentals and the world famous Badger Pass Ski School open at 8:30am, with the Sport Shop opening its doors at 9:00am.

The Cross-Country Ski Center is also open at 8:30am for those interested in taking advantage of 90 miles of marked cross-country ski trails in Yosemite's pristine backcountry. Snowshoe rentals, cross-country ski lessons and the soon-to-open snow tubing area are also offered at the Cross-Country Ski Center. Two-hour snow tubing sessions will take place three times a day once its hill is groomed and will offer a fun and inexpensive alternative for non-skiers.

About Yosemite's Badger Pass Ski Area
Founded in 1935, Yosemite's Badger Pass Ski Area enjoys the distinction of being California's first ski resort. Badger Pass is the gateway to some of the most beautiful vistas in the High Sierra, offering five convenient lifts and spacious groomed runs for downhill skiers and snowboarders, in addition to snowshoeing, snow tubing and cross-country ski trails.

The Yosemite Ski School was established in 1928 and has trained generations of first-time skiers, snowboarders and telemarkers. Private and group lessons are available daily, with specialized instruction for kids (four to six years old) participating in the Badger Pups program. Babysitting is also available for potty-trained children ages three to nine.

For online lodging reservations and information about Yosemite Ski & Stay packages and the new Winter All Access Pass, visit www.YosemitePark.com or call 559-253-5676. For 24-hour ski conditions, call 209-372-1000. For road and weather information, call 209-372-0200.
edited to include the Press Release from DNC P&R at Yosemite –T