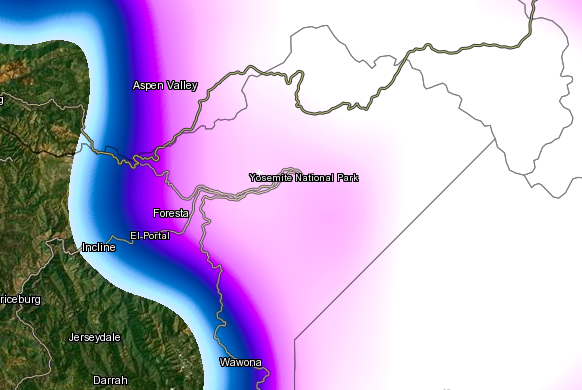 The above image shows snow coverage based on light reflectivity.
Last year California experienced an abnormally dry year. This year is almost the polar opposite (pun intended) according to Department of Water Resources survey teams who made their first water content report of the year Wednesday.
According to the snow report, water content in the Central Sierra snowpack is at 133 percent of the average for this time of year and already half of the average for peak of the snowy/rainy on April 1.
Although many don't feel the way I do about the heavy snows for keeping seasonal passes like Tioga Pass closed longer; heavy snows are vital for area fisheries, agriculture, residents and businesses, many of whom rely on the snow to bring skiers during the off season. It also means the waterfalls will flow longer throughout the summer.
More rain and snow is forecast to move through the area on Thursday with the possibility of showers continuing through out the weekend so if you're headed up bring your chains and a good rain coat!.