The LA Times posted an interesting opinion piece about safety in Yosemite and asks the question, "Can Yosemite be made safer?"
Here's a little background from the piece.
Of the 20 or so people who died in Yosemite last year, 13 met their deaths via accidents. Sometimes those accidents are the results of deliberate risk-taking — people who rock-climb on the sheer face of Half Dome are willingly pursuing a potentially dangerous sport. Sometimes they are the result of people willfully ignoring obvious — even literal — signs of danger, such as the three people who were swept over Vernal Fall last summer when they climbed over a protective railing and past strongly worded warning signs to bathe in what looked like a safe pool in the Merced River.

But other times, the situation is less clear. In June 2011, two men died in the seldom-visited Hetch Hetchy Valley. They were on their way home from a backpacking trip when they came to Wapama Falls. In spring, or during wetter years after storms, the waterfall sends pounding streams of water onto the wooden footbridges below. It's a matter of of personal judgment whether conditions make it too dangerous to venture onto the bridges. Hiking books warn about the danger, but there were no signs that I could see on a recent trip. In this case, the hikers were 2.5 miles from the trailhead; turning around and taking an alternate route via the backcountry would have cost them more than a day. They decided to try the crossing. One was overpowered by the torrent of water and slipped off the bridge. According to an eyewitness, his hiking campanion let go of the railing in an attempt to save him and both men were swept into the reservoir below.

Each time Yosemite or another wilderness area is the site of an avoidable death, the question inevitably arises of whether the park is doing enough to keep visitors safe. Does it need more railings, more signs? The Times editorial board has repeatedly said no. Yosemite has a lot of signs; in fact, part of the problem could be that there are so many signs, tourists don't bother looking at them. Wilderness is wilderness for a reason; people need some respite from man-made boundaries. (I'd make an exception for the granite steps up the Mist Trail to Vernal Falls, one of the most hiked trails in the park and one where many people complain about the slippery stone steps and a man died after slipping on one of them into the river. Extra railings make sense there.)

But that doesn't mean the park should give up on additional safety measures. One possibility would be to hand people a separate, eye-catching paper when they enter the park about the dangers and some basic behaviors to avoid tragedy. ("Don't go in the river within a certain distance from a waterfall, whether above or below.") Tourists already have to stop to pay their fee. They're already handed brochures and other information about the park. It would cost very little money and almost no time to print up these lists in several different languages and for the gate attendant to take just a few seconds to say, "This list is important. Please read it for your own safety. Very sad things have happened right in this park to people who didn't do these things."
Personally, I don't believe there's much that can be done to make Yosemite safer. There are guidebooks, websites (like this one), and videos that frequently warn of the dangers and urge caution. When something tragic does happen the news is carried world wide in newspapers, blogs, television news, radio and even podcasts. Yet one thing remains, people don't heed the warnings and never will.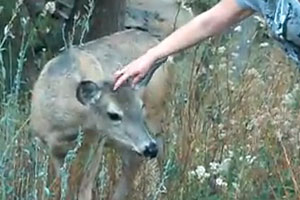 Yosemite is wild. This isn't Disneyland. This isn't an amusement park with safety measures installed. This is wilderness. Just because there's a trail or a footbridge or a railing doesn't mean you should give up common sense. Wilderness is wilderness. Little things can kill you. Don't stand on top of a mountain in an electrical storm. Don't pet a deer it can gore you with it's antlers if startled. Don't pick up a sick squirrel along side the trail and carry it around, it could have rabies. Don't leave food out for bears. Don't try to hike 10 miles in the middle of summer with only 12oz. of water in a cheap plastic water bottle. Above all…
USE YOUR COMMON SENSE.
What do you think?
Responses:
Since 2005 I have been a YA/YC volunteer five times. In that capacity I have had to direct and redirect people to have a safe, efficient and enjoyable time in the park. But there is no shortage of stupidity, carelessness and disregard. I shows in so many fashions: arrogance being a top description. Yosemite is such a wonderful place where awe should overrule arrogance, where respect should replace disregard. As you say, it's not Disneyland (despite some rental options in the Valley such as tubes). While I personally am sorry for untimely death, I cannot easily empathize when peoples' own carelessness and disregard cause their own injury. Time and again we volunteers have had to warn people about the Yosemite power. I always hope they see the park through the eyes of an artist instead of through the attitude of an atv driver. -Bob
A good, sensible piece, with an easy, excellent suggestion (the handout at park entrances). -Alexandra
I strongly agree with the LA Times that fliers should be distributed to visitors implementing what I would call the "Fair Warning" system.
While it's true that Yosemite is wild and not a Disneyland it is also true that the majority of visitors do not have experience in the wild. It is this sad yet compelling fact that should persuade Park officials to immediately announce upon entrance the top dangers in the park and how to avoid them.
Announcing the number of deaths and injuries that occur annually would assist people in understanding the actual dangers in the park. Wasn't this the thinking behind the "Red Bear, Dead Bear" campaign, to graphically connect the thoughtless act of speeding to the actual death site of the bear?
I'm not saying let's erect a sign over the spot of every human death but I am saying that Yosemite needs to create an atmosphere of Fair Warning for people with the same vivid exactness that it has given to bears. The harsh reality is that both warnings are needed.
Other than the lack of a warning statement being issued upon entrance I think the park is doing a fantastic job and I'm privileged to live close and visit often. -Lee