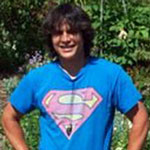 Ben Wong started his hike on August 18th and intended to hike from the Yosemite Falls trailhead to Yosemite Creek, then on to May Lake, Sunrise Lake and complete his hike at the Cathedral Lakes trailhead in Tuolumne Meadows on August 21st, Friday.
If you've hiked in the Yosemite Falls, Yosemite Creek, May Lake, Sunrise Lakes, Cathedral Lakes area recently the National Park Service is asking you to please call. Even if you did not see Ben on the trail please call. Your information could help pinpoint his last known sighting.
Ben is 18 years old, 5′ 9″, 160 lbs. with dark brown frizzy hair, brown eyes and a tan complexion.
If you have any information or were in the area please call (209) 372-0311 or (209) 372-0522.