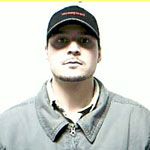 Joshua Gunther obtained a wilderness permit to enter the Yosemite backcountry via the Ostrander Lake Trailhead on Saturday, June 27, 2009. He was due out at the same trailhead on Sunday, July 5th. Joshua did not report to work on July 6th or July 7th and is possibly still in the Yosemite area. Joshua may be driving a 2000 Nissan, California license plate # 8D15054
Joshua is 34 years old, 5 foot 11 inches, 190 pounds, with short spiky brown hair, and brown eyes.
If you were hiking in the Ostrander Lake area on or after June 27, please call the National Park Service at 209-379-1992. Even if you didn't see Joshua but were in the vicinity you're urged to call. Every bit of information helps.